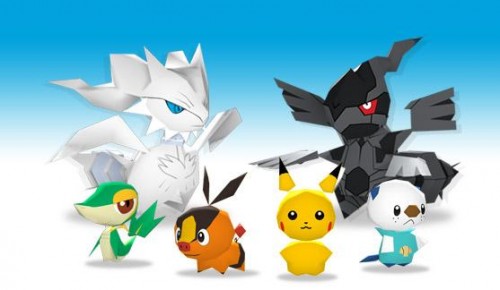 We first heard about the upcoming 3DS eShop title, Pokémon Rumble Blast at E3, and rather quietly I might add. Aside from a trailer, nothing else was really shown for the title, but now Nintendo have shed light on what players can expect when it hits the download service this fall. Much like it's WiiWare predecessor, Pokémon Rumble Blast will let players collect and battle wind-up toy versions of the full Pokémon roster, and this time with the newly added Black & White selection added in.
If you have never played the WiiWare version, players take control of their Pokémon team and do battle in which types and stats effect the outcome, much like the battles from the main series. Pokémon Rumble Blast will offer up opportunities to take on dozens of monsters at a time, with large bosses also in tow that require further effort to conquer. After battles, players can then "befriend" Pokémon to add them to their roster to further strategies and add a bit of personal flavor to each experience.
Also available is the cooperative play mode that allows two players to work together and battle through levels to better befriend defeated Toy Pokémon. A StreetPass feature has also been added, allowing those who cross paths to challenge other users as well as view the rival players' Mii characters in the game.
I honestly can't think of a better fit for the now continuing Pokémon Rumble series than the 3DS, and with over 600 Pokémon, this first official Pokémon title on the eShop looks to be quite a substantial one. Pokémon Rumble Blast launches October 24th for the 3DS eShop. For even more information, check out the official website at http://www.pokemon.com/us/games/videogame-pokemon-rumble-blast/.