If you live in Australia and own a 3DS you should switch on your WiFi RIGHT NOW! The Nintendo 3DS Video Application is now Live In Australia! 3DS owners will receive a notification from Nintendo telling them they can now download videos via SpotPass, and these videos can be downloaded even whilst in sleep mode. Once the application is downloaded, you can see that two videos have already been uploaded to the application: A 7 minute mini-episode by Disney Australia called Oscar's Oasis: Oasis Cup, and also another named Magic Trick 01. Both videos are available until the 20/07/2011. By then Im sure we can expect many more videos such as movie trailers, animations and classic concerts, as they have been promised for the application, as well as episodes of Shawn The Sheep, as was discussed earlier this year at the Nintendo 3DS launch.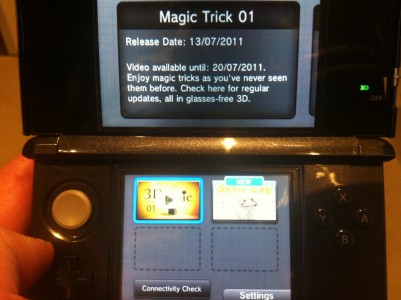 By looking at the screen, it appears the chanel will only hold four videos at a given point, until one is replaced by a newer one. However this is just us speculating.
Below is a notification email sent to all 3DS users by Nintendo.
We hope you are enjoying all the online services your Nintendo 3DS has to offer.

Now we are pleased to announce that Nintendo Video, a new video service offering short 3D videos, is being introduced exclusively for the Nintendo 3DS. The Nintendo Video Service allows you to receive assorted kinds of exciting video content via SpotPass without lifting a finger.

With a broad range of 2D and 3D videos available, such as movie trailers, sports clips, music videos, cartoons and more, there is sure to be content to appeal to everyone!

When you have access to a wireless internet connection, you will automatically receive videos which will be saved for a limted time on your Nintendo 3DS system. You can watch the videos repeatedly, until they are replaced by new content.

Your Nintendo 3DS can also receive SportPass data, including content for Nintendo Video, automatically from supported public Wi-Fi access points.

The Nintendo Video software is available to download for free from Nintendo eShop. Note that a system update might be required to access Nintendo eShop and to receive SpotPass data from supported Wi-Fi access points.

Have fun with the new Nintendo Video application, and stay tuned for news of additional software and features coming to your Nintendo 3DS.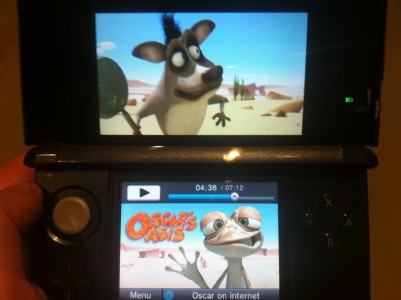 Oscar's Oasis, Currently Live For Free Download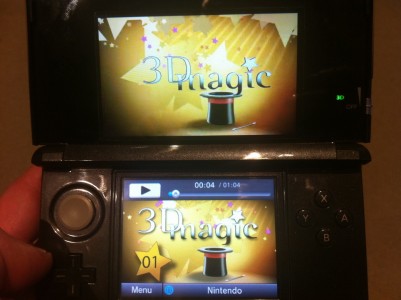 Magic Trick 01, Currently Live For Free Download