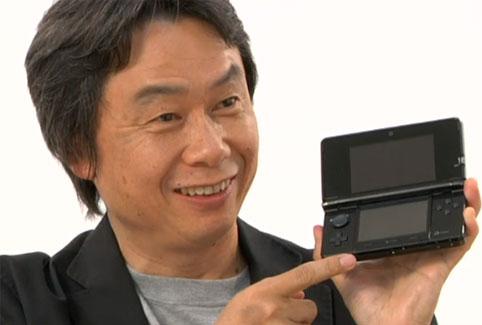 While the 3DS just launched four months ago, Nintendo are now slashing the price to $169.99, which is a rather large cut compared to the previous $249.99 price-tag. This is huge news, as this cut which takes place on August 12th will put the device at the same retail pricing as the Nintendo DSiXL. We have heard rumors of poor sales for the handheld, and this move all but confirms that Nintendo are out to try a different strategy to increase ownership of the 3DS.

"For anyone who was on the fence about buying a Nintendo 3DS, this is a huge motivation to buy now," said Nintendo of America President Reggie Fils-Aime. "We are giving shoppers every incentive to pick up a Nintendo 3DS, from an amazing new price to a rapid-fire succession of great games."
Now you might be saying to yourself, "BUT I PAID FULL PRICE JUST A FEW MONTHS AGO!"
Well, Nintendo have thought ahead on that, and will be offering a great supplement for those who already invested in the 3DS.
Since Nintendo 3DS launched in the United States on March 27, more than 830,000 people in the U.S. alone have purchased one to enjoy 3D visuals without the need for special glasses. These Nintendo 3DS owners represent some of Nintendo's most loyal customers, and Nintendo is rewarding them for getting in on the action early with 20 free downloadable games from the Nintendo eShop.
These free games are available to anyone who owns a Nintendo 3DS system and uses a wireless broadband Internet signal to connect to the Nintendo eShop at least once before 11:59 p.m. Eastern time on Aug. 11. These users will automatically be registered in the Nintendo 3DS Ambassador program. The program contains two elements:
Starting Sept. 1, Nintendo 3DS Ambassadors will be able to download 10 NES Virtual Console games at no charge and before they are available in the Nintendo eShop to the general public. These games, including Super Mario Bros., Donkey Kong Jr., Balloon Fight, Ice Climber and The Legend of Zelda, are slated to become paid downloadable games, but Ambassadors get them early for free. Once the paid versions of the games are posted to the Nintendo eShop later in the year, the updated versions will be available to Ambassadors for download at no cost.
By the end of 2011, Nintendo will provide Ambassadors with 10 Game Boy Advance Virtual Console games. These include games like Yoshi's Island: Super Mario Advance 3, Mario Kart: Super Circuit, Metroid Fusion, WarioWare, Inc.: Mega Microgame$ and Mario vs. Donkey Kong. These games will be available exclusively to Ambassadors, and Nintendo currently has no plans to make these 10 games available to the general public on the Nintendo 3DS in the future.
More details about this program will be announced in the future.
I was a tad frustrated with the price decrease since I was one of the early-buyers, but I can now say that this move of supplying 20 free games (and a fantastic selection at that) have completely dried up any anger I had, so I think that this huge marketing move will go down without a hitch. This also confirms GBA titles for the eShop, and after the dry year we have had so far, this wave of titles seems to be quite thirst quenching indeed.
A huge price cut and free games, not a bad move Nintendo, not a bad move at all.

UPDATE: Australia will also be getting this price slash, which will change the MSRP from $349.95 to $249.95.
What are your opinions on this monumental price cut? Leave your opinion in the comments below.