Rockstar's L.A. Noire title has received high accolades from many games websites, magazines, and gamers in general. With our demand for more, more, and more Cole Phelps, Rockstar wouldn't make us wait that much longer before releasing their next trailer for the final planned piece of DLC.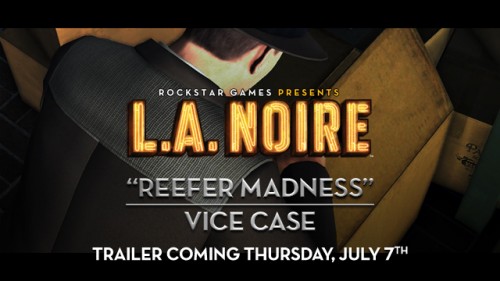 Phelps and Earle get a tip off about a local drug dealer, however what they discover is far more incriminating: one of the city's biggest narcotics rings. The Reefer Madness Vice Case, the last of the planned DLC for L.A. Noire and the final piece of DLC available for free on the Rockstar Pass, will be available for download on Xbox LIVE and the Playstation Network on July 12, 2011. However, Rockstar has to get us excited, so a trailer for the DLC will be available on Thursday July 7, 2011 (Friday 8th for us Aussies and Kiwis).
More information is available on the official Rockstar site here, and check back on Capsule Computers on Thursday for the trailer!