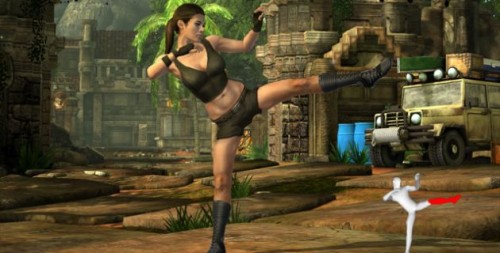 Jillian Michaels has a lot of impressive titles under her belt, including fitness coach on the hit TV show The Biggest Looser, best-selling author of UNLIMITED: How to Build an Exceptional Life, Co-Host of The Doctors, and now star of her own Xbox 360 Kinect exclusive adventure video game. Oh yeah, and she dresses like Lara Croft now! Developed by N-Space and published by Microprose Majesco, Jillian Michaels' Fitness Adventure is set for a release this November for Xbox 360 Kinect.
The idea behind Jillian Michaels' Fitness Adventure is an interesting one. It takes the player on a mission-based adventure, preforming parkour-styled maneuvers in a lush jungle temple environment. Whats the catch? Your actually preforming a regular routine workout that is increasing your fitness. Certainly this is more appealing than a simple workout on Wii Fit!
These are the currently announced features for Jillian Michael's Fitness Adventure as provided by Majesco:
Multiple Exercise Modes: Fitness Adventure Mode – featuring Parkour-style action (a free-style mix of proactive and reactive running, jumping and climbing) set in an exciting jungle temple environment; Circuit Training – 10 exercise circuits hand-selected by Jillian herself available in three difficulty modes, giving you complete freedom to customize your session; and Individual Fitness Training – offering exercises of varying difficulty allowing you to work out at your own pace.

Use Your Own Equipment: Jillian Michaels' Fitness Adventure has training programs that can easily integrate various types of fitness gear you may already have at home. Or you can use the game's complete regimen of training exercises that use your own body weight to get you back into shape…the choice is yours!

Social Integration: Check out your own and your friends' performance in the online leaderboards. Keep up the great work because Jillian will be monitoring the boards and the best performers will be honored on Jillian's Facebook page.

Stats: The game provides statistics to track your progress, including a calendar that shows you what days you have worked out from the moment you started playing the game to present day. It also displays the breakdown of calories burned, number of exercises/circuits completed, and time spent exercising. These can be viewed on a daily, weekly, monthly and even yearly basis.
Jillian Michael's Fitness Adventure will jump onto the Xbox 360 for Kinect in November.