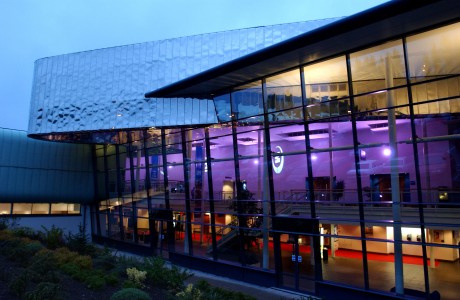 Over 3,000 multiplayer gamers will battle it out for a prize pot in excess of £30,000, as i43 – the latest in organiser Multiplay's thrilling Insomnia Series of events –  expands into Telford International Centre.
Taking place over the August bank holiday weekend (26th – 29th August 2011), i43 will see gamers compete across a range of titles, each battling for prestige and prize money in what is recognised as the UK's premier multiplayer gaming event.
The Insomnia Series of LAN events is a British institution, playing host to some of the biggest eSports tournaments in Europe – indeed, it is the host of the UK qualifiers for the World Cyber Games.
Organisers expect over 5,000 spectators to pass through the doors over the weekend, which includes dedicated exhibition space alongside the fiercely contested competition area.
The events prove a massive draw, even for those not attending. The competitions are streamed online all weekend and historically the i-Series has seen over 170,000 unique viewers and close to 10,000 concurrently  – and this weekend's high-profile billing is expected to set a new record for certain tournaments.
Now in its 43rd iteration, the i-Series has frequently been dubbed 'The Glastonbury of Games' due to its festival atmosphere, with on-site camping, round-the-clock entertainment and events, and a main stage featuring world class entertainment. Parties, giveaways, celebrity appearances all take their place alongside the 3,000-seat competition.
"The i-Series of multiplayer events have always been a sight to behold, but in our new home at the Telford International Centre, it's going to be our biggest and best yet, says Craig Fletcher, Managing Director, Multiplay. "The prize fund already sits at more than £30,000 – but we expect that to rise significantly as we head closer to the main event. We'll also soon be confirming the games on show at the event shortly, which will include the year's biggest forthcoming titles.  With a real community feel, i43 offers something completely unique to UK gamers – so much more than a bunch of pods in a hall."
"eSports is the fastest-growing competitive sport in the world," says Craig Fletcher, Managing Director, Multiplay, "Sponsors and exhibitors who will be making i43 the largest yet include Samsung, ASUS and Kingston with loads more just finalising their involvement before announcement."
Full details of confirmed companies so far:-
Samsung – showcasing its latest gaming and electronic devices
PC World – offering a wide range of equipment for purchase at the show and bringing many partners to demonstrate their products.
Medion – unveiling top-of-the-range gaming PC's, monitors and peripherals .
Fileplay – the leading content distribution company whose platform will host the live streaming and video on demand replays.
Iiyama – the monitor and touchscreen specialists will be showing off its wares
ASUS – tonnes of freebies and a Left 4 Dead 2 survival championship
Riot Games – sponsors of the League of Legends WCG tournament
Aquatuning – showing off their latest hardware and handing out awesome freebies
ESET UK – Andy the Android will make a triumphant return with an on-stand tournament and ace giveaways
Kingston – sponsors of the Counter-Strike Source Cup.
Pro Class TV – Coverage of the FIFA tournament including well known celebrity appearances (more soon!).
Quiet PC – showing that powerful can also be quiet!
Razer – sponsoring the international Starcraft 2 tournament.
Triple Widescreen – the makers of the iMotion Racing Seat will be speeding into i43
Ttesports – Sponsoring the Heroes of Newerth Tournament and showcasing their range of gaming hardware and peripherals.
Kustom PC – try out the latest hardware which will really help raise your game
Antec – showing all their latest range of PC products.
Team Dignitas – once again returning to i-Series, with its brilliant 'beat the pro' competitions
A full competitor "Bring Your Own Computer/Console" pass costs £92 for the whole weekend including camping.  There are also options for those unable to bring their own equipment with "Turn Up and Play" passes costing £50 for particular tournaments and PCs being available for rent for £150 inclusive of the full entry pass.
Spectator passes start at £5 for a day access to the exhibition or £25 for the whole weekend including camping.  Of course for those who can't make it, there will be free internet coverage of the event streamed live through Multiplay's site in High Definition.
For more information on the event, head over to iseries.multiplay.co.uk
Will anyone based in the UK be attending? It's a pretty hardcore interest so I expect most people interested may well have been planning to attend this straight after participating in last year's, but there's always room for new entrants.