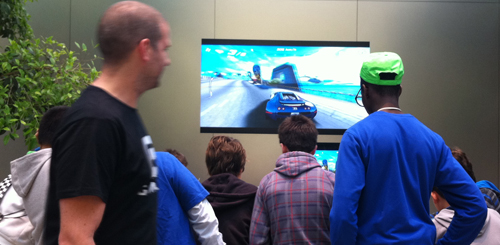 It's a rainy day in Bondi, and what better conditions to be indoors at a multiplayer event with the guys from Gameloft. Held at the Apple Store Bondi, with a large amount of people running around all trying to get on a machine to show what they've got. Gameloft had a bunch of games on display for anyone to hop on and try out like Nova 2, Modern Combat: Domination, Let's Golf 2, Brain Challenge, and a whole suite of iOS titles. The big draw however was the tournament of their racing game Asphalt 6: Adrenalin which is currently available for iOS devices and on Mac. During the tournament Gameloft showed off a bit of their technology with different racers on different hardware all competing against each other. I have to admit, seeing someone on an iMac go against someone on an iPad, against an iPod Touch, against a Macbook Air etc. is pretty awesome. Regardless of the hardware you're playing on you're still able to compete against others with the same game.
I expected to see more people win on the actual computers but to my surprise there wasn't a consistent piece of hardware that produced winners over the others.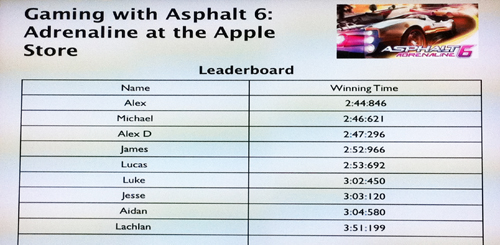 The tournament was pretty successful with lots of heated competition. I got a chance to chat with a few of the kids who were playing and everyone seemed to have a great time. Alex Baird, age 11 from Sydney wound up finishing in one of the top slots with a time of 2:44:846. You could see on his face how excited he was to be one of the top dogs. I'm going to be honest here and say that I performed pretty miserably, but lets not dwell on that. I've gotten to a point in my life that I fully expect 11 year old kids to wipe the floor with me in games.

I got a chance to have a talk with Bruno Ambregni from Gameloft and I have to say, those guys really seem to have their heads screwed on straight. I really liked what they were trying to accomplish with the event and having it at an Apple Store was a really smart move. We also had a discussion about what they're planning on for future events and I'll say that they're certainly ambitious. I feel that Gameloft is in the middle of a transition. They've mostly been known as a developer that's more about their tech than their games but I feel like that's starting to change for them. They're finally coming out of their shells and making better scenarios for themselves. Obviously they're still doing some pretty rad things with their tech. I mean just check out the multi platform multiplayer games. That's pretty forward thinking. But I feel we haven't seen the best of Gameloft yet. We're only just now starting to see what they can really do.