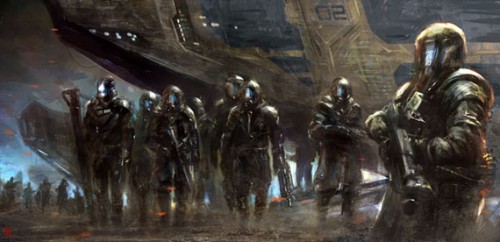 There hasn't been a lot of information revealed yet regarding the Eve-themed shooter called Dust 514. The game is a PS3 exclusive at the moment and was originally meant to be entirely free to play. That is until now apparently. In an interview with GI.biz, CCP CEO Hilmar Veigar Pétursson revealed that those who wish to play the game should expect some sort of "cover charge" to gain access to the title.
To be more exact he said the following: "In the beginning you have to pre-buy credits, so you pay something like $10-$20 to enter the game and you get the equivalent number of credits in the game once you do that. We call this the cover charge. You're really getting the game for free but you have to pre-buy credits in the beginning. We might go fully free-to-play down the line, but in the beginning we have a cover charge just to manage the initial launch of it."
It seems that although there is a price point for some early adopters to the game, those down the line will not have to worry about paying any price to play the title. Though it is nice that the developers are going to provide in-game money and items to those who pay the cover charge.