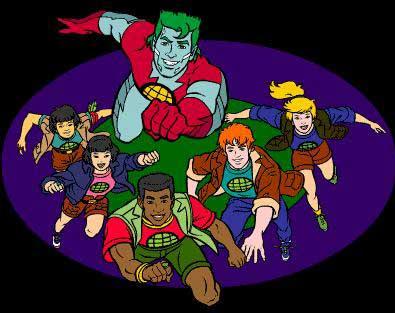 In the early 90's, when there was actually cartoons made for Saturday Morning rather than Nickelodeon reruns, a little show crafted by Ted Turner turned into a phenomenon of sorts that taught kids how to recycle and about the damage of mind and bodily pollution. That show was none other than Captain Planet. Today, those who grew up with the show have a reason to rejoice as Captain Planet and the Planeteers is getting the film treatment, with Don Murphy and Susan Montford of Tranformers fame behind the wheel of the project.
"[Captain Planet's] adventures are known worldwide and he is recognized across generations," said Murphy. "We expect to make a spectacular series of films with the amazing team at Cartoon Network."
"With the earthquakes, tornadoes, melting icebergs and all the other problems threatening the world right now, Earth really needs her greatest defender," added Montford.
I still have a soft spot for the Captain (the ending theme is my ringtone at the moment), as every single Saturday I remember watching the cartoon and waiting all week long in agony due to the series' constant two part episodes that were pretty exciting back then. The show was actually in my opinion years ahead of it's time and while it did have the 90's cheese, it was the only cartoon I can recall that dealt with topics that no one really discussed with kids.
No cast has been hired as of yet, but it certainly will be hard to top the performances of Whoopi Goldberg, Martin Sheen, LeVar Burton, and Kath Soucie, who have all were top names for a cartoon show back at the time. So now we ask you, PLANETEERS! Who should be cast, what topics should be featured, and what audience to you feel this new flick should target?