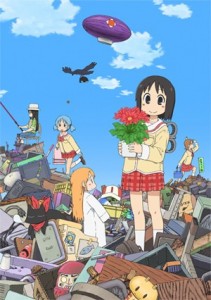 Today Bandai has announced several acquisitions at their Otakon panel. The biggest of which where anime series, Nichijou – My Ordinary Life and GOSICK, two of the most popular anime series of the past season.
Nichijou – My Ordinary Life, is a slice-of-life anime with a twist and has garnered a large amount of critical acclaim. The series was licensed for dubbing and distribution throughout the US. GOSICK, is a mystery series which like Nichijou – My Ordinary Life, was also a critical success, it will also be getting the same dubbing and distribution treatment.
Also announced from Bandai were two manga series. One of which was the manga version of Nichijou – My Ordinary Life and the other being a manga series based off the Code Geass anime, however set in an alternate timeline and with a different protagonist, titled Code Geass: Renya of the Darkness.
These are all huge announcements for Bandai. Let us know what you think in the comments section below!