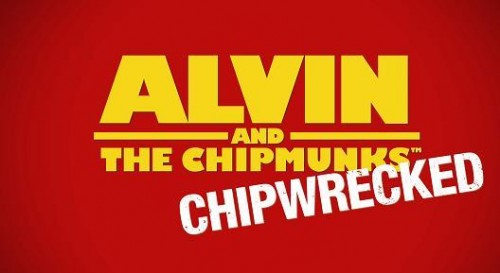 Did you know that there is going to be a new Alvin & The Chipmunks movie out on December 16th? I honestly can't say I did, but like the other two Alvin movies, a videogame tie-in will also be released alongside a month prior in November and will be available for the Xbox 360 Kinect, baring the same title, "Alvin and the Chipmunks: Chipwrecked". This new Alvin game will let players sing and dance alongside Alvin, Simon, and Theodore as well as their female friends, the Chipettes.
While this may sound like standard fare for a Kinect Dance title, Chipwrecked will allow players to sing, and then play back the audio in a much higher "Alvin-ized" version, a concept that we have never seen done with the device as of yet and certainly fitting for the characters involved. Full body tracking will also be involved due to the Kinect camera, allowing for players to match the Chipmunks dance moves as they sing along.
Majesco, who are publishing the movie tie-in released this comment today along with a synopsis of what we can expect from the actual movie and videogame:

"The Alvin brand has proven to be evergreen with universal awareness and growing appeal," said Jesse Sutton, CEO Majesco Entertainment. "The extensive customization and combination of dancing and singing to contagious Chipmunk music will deliver a full-featured experience based on the upcoming movie that the whole family can enjoy together."
The forthcoming Alvin and the Chipmunks movie finds the trio vacationing aboard a luxury cruise liner, turning it into their personal playground, until they become 'chipwrecked' on a remote island. The Alvin and the Chipmunks: Chipwrecked video game continues the story with an around-the-world journey that has The Chipmunks visiting six tropical locations inspired by the movie. Hear your voice "Alvin-ized" when you sing along with the game and unleash your "Munk Power" to perform ultra-cool dance moves.
Alvin and the Chipmunks: Chipwrecked will be coming this November for the Xbox 360 Kinect and will also see releases on the Nintendo DS & Wii.