Turtle Beach, fresh off the critical success of the PX5 Headset, is now on their way to even more glory.  Unveiling two new headsets at E3, it is quite clear that Turtle Beach is a company that will not stop innovating for their customers.
The Turtle Beach Ear Force PX3 Programmable Wireless Gaming Headset is the PX5's smaller cousin.  This headset is geared toward PS3 gamers, although it will sport compatibility with the Mac, PC and Xbox 360.   18 interchangeable audio presets are preloaded on the device, and additional stereo  presets will  be on the Turtle Beach website when the headset launches.  One of the coolest parts of the the PX3 is the included rechargeable battery pack, that will have a charge life of 10 hours. The PX3 also includes a "Sonic Lens with Sound Field Expander that widens or narrows the sound field to focus on specific frequencies and a Ear Guard with Blast Limiter technology, which limits the intensity of deafening sounds."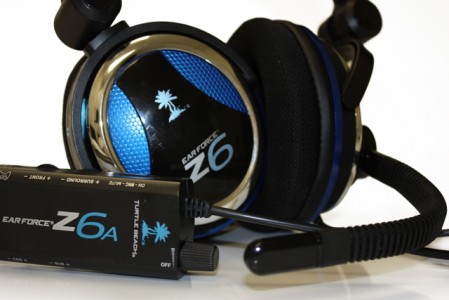 Turtle Beach is also announcing another headset: the Turtle Beach Ear Force Z6A Multi-Speaker Surround Sound Headset.  A 5.1 channel amplifier with bass enhancement, the Z6A is fully equipped with eight amplified speakers, including dual subwoofers. "Acoustically angled toward the user's ears," the headset allows "gamers to pinpoint critical sound cues from every direction, such as the sound of approaching footsteps, incoming enemy vehicles, or the click of someone reloading in the distance." Promising extreme comfort and slick design,the Z6A also has quick disconnect cable and USB power, making it deal for LAN players. This headset can also be used with the Xbox 360, provided a special cable is bought.
"We are the category leader because we are the only headset maker solely focused on gamers' unique audio needs," said Carmine Bonanno, President and CEO of Turtle Beach. We redefined what a gaming headset could do when we introduced the PX5 earlier this year.  One message we have heard from gamers load and clear is that they want to control their gaming experience as much as possible. The PX3 allows us to bring many of the PX5's amazing innovations to an even broader audience, while the Z6A offers PC gamers a competitive edge with a flexible multi-driver surround sound experience that provides the comfort needed for long gaming sessions."