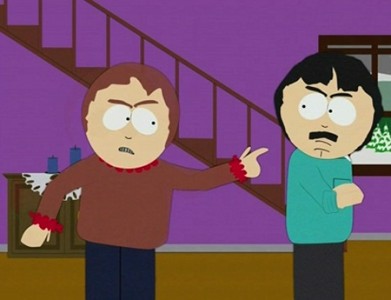 I know, I know, we're primarily a video games site. But we do review movies and TV series, and this bit of TV news personally hit me hard.
The residents of South Park have managed to defend their town from every kind of threat – aliens, cults, zombies, killer turkeys, Wal-Mart, immigrants from the future, Cthulhu, people from Jersey, and 200 pissed-off celebrities – but the latest episode posed a danger they may not be able to avoid: the cynicism of the show's creators.
South Park usually ends with some kind of opinion or warped message, but in the latest episode, titled "You're Getting Old", that message may be that the creators have had enough.
In the episode, Stan is diagnosed with a severe case of cynicism, and begins to realise that everything, from ice cream sundaes to L.A. Noire, is crap. Meanwhile, his parents declare they are unhappy, and Sharon's speech to Randy at the end holds a clear second meaning, regarding the fate of the show itself.
Sharon: "How much longer can we keep doing this? It's like the same sh*t just happens over and over, then in a week it just all resets until it happens again. Every week it's kind of the same story in a different way, but it just keeps getting more and more ridiculous."
Creators Matt Stone and Trey Parker have been at it for 15 years, and their contract with Comedy Central requires seven more episodes, to be aired in September/October. After that, there is a chance they will renew for another season or two, but unfortunately, it seems they might not want to.
The episodes this season have poked fun at Apple, the royal wedding, EA Sports, and this generation's music, but they haven't been as sharp or focused as in previous years. The signs of fatigue have been there.
But if this is the final stretch, one thing we can be sure of is an epic series finale. These guys have shown a knack for fantastic narrative writing on a large scale, evident in the regular multi-part episodes of South Park (such as Imaginationland and the 200th episode Mohammed controversy), and the 1999 film based on the show. A final multi-part episode could see off the series in a spectacular fashion. In the past they have even expressed interest in doing another film.
It's going to be a long few months until the show resumes, to find out the fate of one of the smartest, best-written comedies on television.