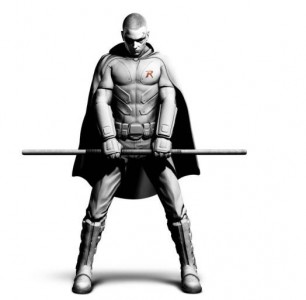 I can't believe I am saying this, but as of now I am actually excited to play as Robin. A while back, we brought news about Best Buy's pre-order incentive that enabled Robin to be a playable character in Batman: Arkham City. Today, a new screenshot along with some confirming information has been released for the once rumored bonus, showing off a very different Robin than you would expect.
Here is the what players can expect to see in this new DLC:

While supplies last, pre-order the game for an exclusive downloadable Robin character. Robin is a fully playable character in the new and improved challenge mode in Batman: Arkham City. The Tim Drake Robin pack is available exclusively to fans who pre-order the game from Best Buy on Xbox 360, PC and PS3.
Robin comes complete with his own unique gadgets and special moves, and will be playable in all challenge maps in the game, as well as two additional challenge maps that are included with the pack: Black Mask Hideout and Freight Train Escape.
The pack will also contain a bonus Red Robin character skin.
The Arkham City Robin will be portrayed by Tim Drake for the game, hence the name, the "Tim Drake Robin pack", which is said to be a Best Buy exclusive. While this is awesome news in itself, a new question arises on the topic of Dick Grayson, who went on to become Nightwing. Since other retailers are certainly going to be competing with their own DLC bonuses, we very well could see other incarnations of everyone's favorite sidekick come along as the release date approaches. We will keep you updated as more news is released on Arkham City's pre-order bonuses, so stay tuned.