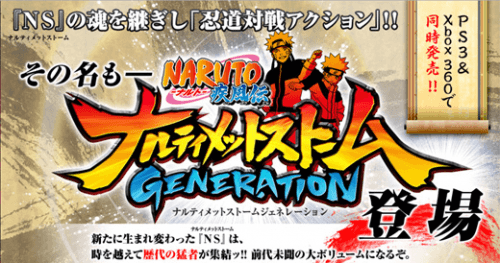 There are two new Naruto Shippuden games on their way to shelves this year; Naruto Shippuden Ultimate Ninja Storm Generation (XBOX 360 and Playstation 3) and Naruto Shippuden Ultimate Ninja Impact (Playstation Portable).
Both titles have had teaser trailers posted onto the V Jump website today, displaying gameplay footage and playable characters. Naruto Generation being particularly interesting for featuring both Naruto and Naruto Shippuden characters, including past and future versions of characters such as Naruto Uzumaki and Sasuke Uchiha.
No release date for either titles has been confirmed for any region. However an announcement shouldn't be too far off. You can check out the Generations and Impact trailers below.
I choose you Staryu!… no Jutsu!

Naruto Shippuden: Ultimate Ninja Storm Generations:
[pro-player width='530′ height='253′ type='video']http://www.youtube.com/watch?v=odJHG4Pd9p4&feature=related[/pro-player]

Naruto Shippuden: Ultimate Ninja Impact:
[pro-player width='530′ height='253′ type='video']http://www.youtube.com/watch?v=J0WpKoCczUo&feature=player_embedded[/pro-player]