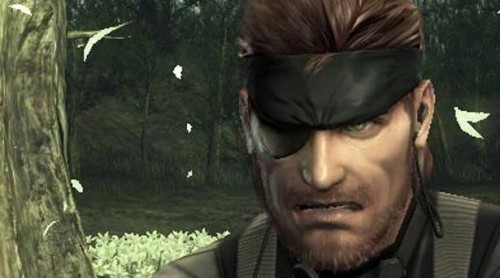 Back when the 3DS was first announced last year, a 3D remake of Metal Gear Solid: Snake Eater was also shown at E3 2010. Since then, we haven't really heard too much about the game aside from a few event showings, but Konami have finally detailed some of the new inclusions that this 3D remake will offer, and by the looks of it, this may be one of the finest 3DS offerings to date.
As expected, the top screen on the 3DS will be utilized to display all of the action in the game while the bottom screen is used for Snake's inventory. The main game itself doesn't look to change too much as the famous jungle setting and 1960's set storyline are relatively unchanged, but now featured in 3D, an element that looks to define this version. While Snake is being stealthy, crawling through the jungle, the camera will go into a first-person view. During this view, foliage can be seen brushing past, giving off a more atmospheric tone to the environment around the player. Boss battles also will implement the 3D function, creating a more in depth and exciting scene for the player.
The most interesting addition to this version is the all-new camouflage photography system. This feature will let Snake take a picture of his immediate environment and literally blend into whatever setting he is currently located at with his attire. The extent of the photography system's effectiveness will be up to the player, varying on how well the picture blends into the environment. Metal Gear Solid: Snake Eater 3D will also utilize the gyro sensor, with details to be released later on.
I have to say I am really pumped about this photography system as it sounds fantastic and completely fitting for Metal Gear Solid: Snake Eater 3D's stealthy gameplay style. After seeing how well the gyro controls complimented The Ocarina of Time, that will be yet another feature we will sure to look forward to as well. For now though, it is simply a waiting game as Metal Gear Solid: Snake Eater 3D is scheduled to release in late 2011 for the Nintendo 3DS. We will continue to bring more updates as they are released, so stay tuned!