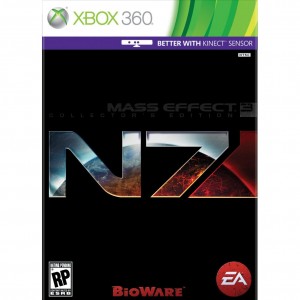 Microsoft should be giving us the deets on Mass Effect 3 shortly, but for those who are impatient, Amazon have listed a Collector's Edition of the game with a March 6th release date. Of course that date could just be a placeholder at the moment, so nothing is set in stone. What has been confirmed though is a nice purple strip on the Xbox 360 version of the game, confirming the previously rumored Kinect support.
Details of what the Mass Effect 3 Collector's Edition actually holds have also been revealed by the online retailer:
Premium metal case featuring commemorative artwork of Commander Shepard.
70-page hardbound art book featuring hundreds of unique and gorgeous illustrations from the BioWare development team plus an exclusive 4×6 lithographic print featuring a one-of-a-kind piece of artwork
Limited edition Mass Effect comic by Dark Horse Comics, complete with unique cover artwork
Join the ranks of the N7 with the premium fabric N7 patch
A full collection of in-game content that can't be found anywhere else!
Interesting….. Only time will tell though just how the Kinect Support will come into play. As soon as more is known, we will be sure to bring you an update.