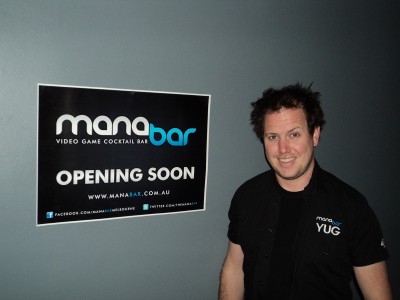 It's been a long time coming, but the owners of the video game cocktail bar Mana Bar have finally announced an opening date for the Melbourne venue.
Saturday 16th July is the date to keep clear, as announced today by creator Guy "Yug" Blomberg.
The doors will open at noon, with prizes, competitions, live entertainment and special guests throughout the day, night and the rest of the weekend.
The first Mana Bar opened in Brisbane in March last year, and after its success, expansion to Melbourne, and other cities nationally and internationally, was a natural next step. The Melbourne venue is located on Brunswick Street, Fitzroy, and will feature seven LCD TVs allowing visitors to play the latest games on the Playstation 3, Xbox 360 and Wii consoles.
But the owners were careful to dispel the usual geek stereotype, and create a unique venue that caters to both gamers and non-gamers alike, with a dynamic environment based around the social interaction of playing games with friends and strangers. Patrons can also expect gaming decor, paraphernalia displayed in cabinets, game-themed cocktails, and apparently, a life-size Duke Nukem statue.
For more information, or for regular updates, stalk Mana Bar on Facebook, or visit their website.
Also check out our interview with Yug back in March.