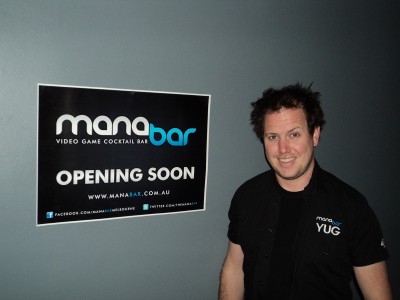 The empty blue room on Brunswick Street, Fitzroy, could just be some squatter's makeshift home. Albeit a squatter with a big TV, a commercial drinks fridge and a display cabinet of various video game characters. I was there to meet with said squatter, Guy Blomberg – better known as "Yug" from Australian Gamer – to discuss Mana Bar, the exciting new venue opening soon in Melbourne.
So, what exactly is Mana Bar?
"Mana Bar is a place you can go, drink and play games," laughs Yug. "It's such a simple concept."
In essence, Mana Bar looks set to emulate any gamer's lounge room on a Friday night, turning the tried-and-true combination of alcohol and video games into a night-out destination. Visitors will be able to play most current games while they down a few brews, or try one of the venue's exclusive game-themed cocktails. Events such as game launches, tournaments and trivia nights will also be held regularly.
Yug explains that initially the idea was "universally mocked; as a stereotypical geek gamer bar, it was going to just be full of fat, sweaty nerds. And that was the perception we had to fight against."
"In a bit more depth, Mana Bar is a classy cocktail bar establishment that has current-generation video game systems." Retro gamers may feel left out, but Yug reasons that today's games are the most accessible, which is crucial in maintaining a social environment. Hardcore gamers shouldn't get too worried though; "accessible" doesn't exclude the hardcore, as games like Street Fighter IV and Modern Warfare 2 are often seen gracing the big screens.
The goal of their video game cocktail bar was to "make something that's not overly geek-centric", taking the classy route to ensure it wasn't just "a LAN café with drinks, or a cyber lounge with beer." The owners are trying to establish Mana Bar as a nightspot that includes the personality of Melbourne's nightlife, but also feels unique and in-line with their establishment in Brisbane. Melbourne's clubs and pubs are already jammed into small spaces in old buildings, and so the common criticism that Mana Bar is too small seems to be not only irrelevant, but, according to Yug, it's part of the appeal.
"Personally, I don't think a four hundred person capacity Mana Bar would actually work. I don't know about you, but when I used to go out clubbing and stuff like that, you never go outside your circle of friends. Whereas at the Mana Bar, the nature of the multiplayer games forces people to interact with people they've never talked to before. People go into the bar as strangers, and meet other strangers and talk."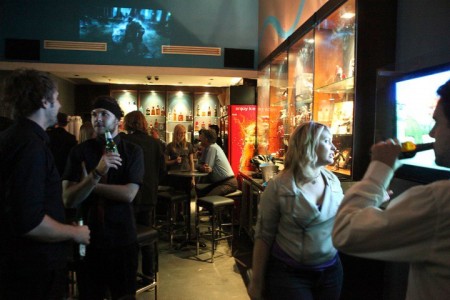 One other reason doubters didn't believe the idea would work was the mentality that "if people are playing games, they're not drinking. It's a fundamental flaw that they saw in the business mechanic. Whereas I saw that if people are playing games, there's a quick turnaround, and then they'll grab a drink. It's a very dynamic flow for a venue."
While the atmosphere sounds promising, I foresaw some issues; with so many people trying to play the games, some set of "rules" would have to be enforced. Yug noted that this was a concern at first, but was pleasantly surprised at how communal people had been instinctively.
"The nice thing about console video games is that people are used to playing at home with friends. And when you play with friends, if you lose a round or finish your game, you immediately realise that there's a whole bunch of people waiting for a go. What we see more often than not is that people finish their round, then hold the controller up and ask if anyone wants a turn."
That said, there are some house rules in place, specific to each game. "The rules for Street Fighter are pretty much 'you lose, you move.' Things like Mario Kart are three rounds per player. That way, if there are any petty squabbles, people can go 'these are the rules', but that doesn't tend to happen that much."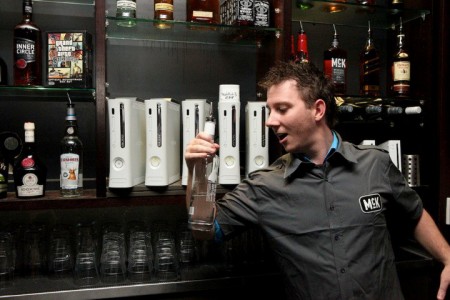 The idea originated, understandably, "drinking and playing video games", and hosting massive parties at his old apartment in Fortitude Valley, Brisbane.
"I would set up a projector with either an Xbox with Guitar Hero or a Wii. Through hosting a lot of these parties, I noticed people – and not just the people I knew who were hardcore gamers, but people who had never touched games in their life – not only did they not have a problem picking up a controller, but they had fun, they got into it. And I noticed that people would watch quite comfortably as well. It was just as much about people drinking and spectating as it was about the people playing.  They'd play a couple rounds of Wii Tennis or whatever, then hand the controller to someone else and go grab a drink."
"I thought 'this mechanic is ideal for a bar situation'. Of course, I had no experience and no knowledge or anything about running a bar, but I was still like 'this idea is brilliant!' I'm sure a lot of people in the past have as well, it's just that I woke up the next morning, and my hangover didn't deter me."
Following the success of the original Mana Bar in Brisbane, Yug and the other owners, Yahtzee, Pras and Shay, are expanding the business to Melbourne and eventually, Sydney and beyond. The Melbourne venue is nearing completion, and I had to ask the question that was plaguing Melbournian gamers – when is opening night?
The official answer: "Mana Bar Melbourne will open on launch day." How very Blizzard.
"No one wants this venue to open up more desperately than we do. I think people need to understand that and realise that. We're not f-ing around. This ain't no Duke Nukem Forever project. Opening a bar is not easy, and it comes down to a bureaucratic paperwork issue, which has held us up. Hopefully, we're getting towards the end of that. There is a process, but until I am one hundred percent sure when that process will end, I refuse to give any details about a date."
"When we announced the date in Brisbane, people actually booked flights. The first guy in line, I think he was up from Melbourne. The second two people had flown in from New Zealand. I don't want to screw people around. When I say an opening date, that's our opening date. "
"But sooner, rather than later. I want people to realise that we are here, we have the venue, we are in the middle of renovations, and we have to open ASAP."
When that elusive date finally gets here, it sounds like it will be a hell of an evening.
"We've got plans for celebrity guests to be here, and some games that will be playable at the bar that won't be out by that time. Some really exciting ones, and I think people will respond really well to that. We'll have prizes and giveaways constantly, we'll have people dressing up, we'll have performers. You know, just a really fun celebration of a video game bar."
Sounds enticing! I prodded further – can you drop some names of the expected celebrity guests, or pre-release games?
"Um… No." We have a laugh, even though I'm hurting inside.
"Well, Hex (from Good Game) will probably come, and the boys from Tripod will most likely be here as well." Sweet! I'm satisfied.
On a normal, non-event night, patrons can expect the opportunity to play almost any game in the current generation, although the focus will be on multiplayer titles. New release single-player games will get a run so people can try them out, but multiplayer games are going to take precedence. A TV in the back room is to have a dedicated Guitar Hero set up, while upstairs is for Kinect titles. The five TVs in the main room will rotate games, according to requests and popularity. And the courtyard out the back may have a projector set up, either with more games to play or showing game trailers.
As for decorations, Yug describes them as minimal. With so many TVs blaring so much visual information, management wanted to avoid having the space feel cluttered. That said, there will be some cabinets filled with video game merchandise to drool over, including Yoshis, Sackboys, Rabbids, Pokemon, game special editions, retro consoles and the piéce de résistance; a life-size Duke Nukem statue.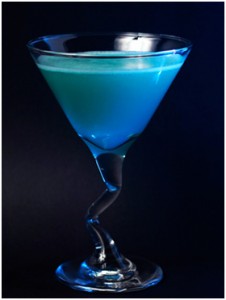 In addition to the standard draughts, ales, ciders, spirits and liqueurs, visitors should definitely try one, if not all, of the Mana Bar's characteristic game-themed cocktails and shots. Why not rescue a Princess Peach (made up of gin, lemon juice and peaches) from the clutches of the evil bartender? Or take sides in the Red vs. Blue (blue curacao on top of sour grapefruit and raspberry cordial). Or even square off against the Purple Tentacle (passionfruit vodka, apple schnapps and grenadine).
"We want unique drinks you can only get here. If you want a Mana Potion (vodka, apple pressé, blue curacao, lime and sparkling white wine  – pictured), you have to go to Mana Bar." The exclusive drinks were developed by co-owner Shay, whose extensive experience in hospitality helps boost the respect of the business in the eyes of the local hospitality industry.
With the volume on the TVs off, patrons will hear remixed game music, chiptunes, some eighties stuff and anything else that is relevant to the overall aesthetic.
As hoped for by the vocal online community, further expansion of the Mana Bar brand is on the books. A Sydney venue is the next project, providing a suitable location can be found.
Future venues in Adelaide, Perth and Canberra are not being ruled out either. "If I could open a Mana Bar in every city in the world tomorrow, I would. But you know what, it's actually a pretty difficult process to open a bar. We're just four guys. Bear with us," he laughs. Possible joint ventures overseas are already being discussed as well.
On international venues, Yug says, "I'm 99% sure there will eventually be Mana Bars in cities around the world. We're in talks, and it may happen sooner than you think… No wait! People will just think 'tomorrow' if I say that. Sooner than someone who knows how these things work would think."
Many, many reasons to be excited. But I had one last question: Where did the name "Yug" come from?
"Uh… it's 'Guy' backwards."
Well, there you go.
For up-to-date news, stalk Mana Bar Melbourne on Facebook and Twitter, or check out www.manabar.com.au.
[Gallery=227]