With the popularity of L.A. Noire and the rave reviews, it figures that Rockstar would have some great DLC coming to back it up. In addition to the great vice and traffic cases that are already available for DLC, Rockstar have another arson case lined up for release in a less than a week's time.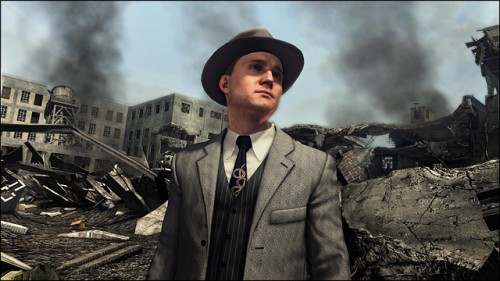 Phelps looking…sombre, as he always does.
The Nicholson Electroplating arson case sees a huge explosion at the Nicholson Electroplating plant, which rocks the nearby areas and kills 17 people. While some cops might write it off as a simple explosion (Occam's Razor and Rusty come to mind), Phelps and Biggs know something more sinister is afoot. What were the employees working on, and where have the chief chemist and his assistant disappeared off to?
The new trailer for this DLC is packed with action and suspense, and it's fair to say that this may be shaping up to be the most exciting piece of DLC yet. The Nicholson Electroplating case will be available on June 21, 2011 for purchase through PSN ($3.99USD/$6.95AUD) and Xbox Live (320 Microsoft Points). However, if you bought yourself a Rockstar Pass (see more information about that here) then the case is free.