August is shaping up to be a great month for DVDs, and Madman has added yet another one to the list: the award-winning film, How I Ended This Summer, is coming to DVD on the 10th of August, 2011.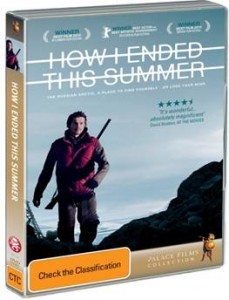 Directed by Alexei Popogrebsky and starring Grigory Dobrygin, this Russian film is set in the Arctic Circle and follows the life of a graduate, Pavel, as he is posted at a remote station in Russia. Pavel is isolated with Sergei (Sergei Puskepalis), his co-worker who harbours a great amount of distrust for Pavel's youthful nature. However, one day when Pavel receives a radio message and does not pass it on to his co-worker, a whole new level of events arises and the situation begins spiralling out of control.
The film has won the Silver Bear for Best Actor and for Best Artistic Achievement at the 2010 Berlin International Film Festival, and was named Best Film at the 2010 BFI London Film Festival – from that, it's pretty obvious that it's a film worth checking out. You can find out more on Madman's site here.