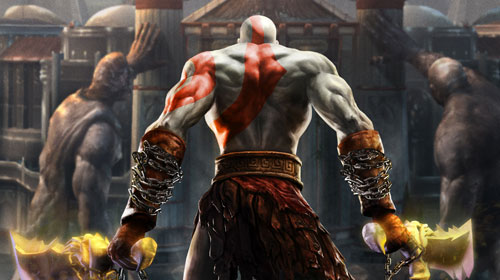 It really isn't a Sony E3 without an appearance from Kratos, who has over time became a mascot of sorts for the company. During the Sony Press Event last night, God of War: Origins Collection was announced which will bring God of War: Chains of Olympus and the somewhat more recent God of War: Ghost of Sparta to the Playstation 3, fully remastered in 1080p and stereoscopic 3-D.
A full list of features for the collection was given shortly after the announcement:
Experience the award-winning PSP games – God of War: Ghost of Sparta and God of War: Chains of Olympus in high-definition and on one Blu-ray disc for the first time.
This is the very first time PSP titles will be made available on Blu-ray for PlayStation 3 in the US.
Fully remastered in 1080p HD and stereoscopic 3D.
Full PlayStation Network trophy support.
DualShock compatible with rumble support.
Dolby 5.1 / DTS surround sound support.
Bonus content will include DLC contents from Ghost of Sparta – God of War: Game Directors Live roundtable video and Legionnaire Kratos & Forest of the Forgotten.
Fantastic news for any God of War fan as this fall marks not only the release for God of War: Origins Collection, but also means that every piece of the GOW franchise will be playable on the PS3. I would say that is some pretty awesome news for fans of the series everywhere.