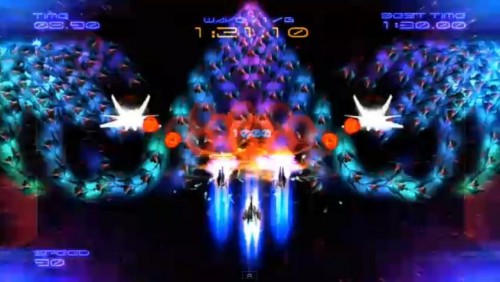 If you are reading this, there is a good chance you have played some form of Namco's classic space shooter Galaga. Fans of the classic will be pleased to know that Galaga Legions DX, the upgrade of sorts to 2008's Galaga Legions is now available on the Xbox Live Arcade. Galaga Legions DX is set to be the largest and most improved version of the game to date.
Using the age-old shooter formula that fans are familiar with, Galaga Legions DX will also include several updates and new features that are sure to make the game even more hectic and action packed as players aim to blast away at every alien in the galaxy. One of the most prominent updates included in the DX version is skins, where players can customize their game by choosing from a selection of visual settings, including ships and Galaga alien sprites from past games in the Galaga series. Offensive and defensive upgrades have been added in as well, such as focus fire which lets the ship's rate of fire to increase the closer they are to the enemy, allowing for infiltration of alien swarms. Two special satellite guns have also been added to each ship, enabling two firing modes to be switched between at the press of a button.
Galaga Legions DX is now available for the Xbox Live Arcade for 800 Microsoft Points and will be "coming soon" to the Playstation Network.