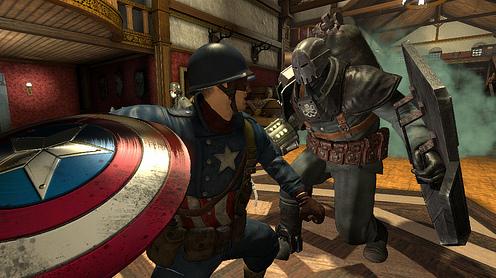 With the new Captain America movie hitting theaters this summer, a game is (of course) planned to release right alongside the flick. Now before you let out that collective sigh, you should know that Sega have enlisted Next Level Games (developers of 2009's Punch-Out and Super Mario Strikers for the Gamecube), to develop Captain America: Super Soldier, which will be a first-person action title. Those who place a pre-order for the Xbox 360 or PS3 version of Super Soldier at Gamestop will receive an "Ultimates" DLC pack.
The pack includes:
Ultimates 1942 Captain America costume
The "Ballroom Blitz" Challenge Mode Map
Early in-game access to Cap's "Weaponize" ability
Not a bad incentive at all and honestly, Captain America: Super Soldier is shaping up to be a pretty solid experience. I didn't care for Thor to be honest, which was released earlier in the year, but judging from the experience involved behind Super Soldier, we could very well see another "War for Cybertron" (another title that was developed by Next Level) type of release here. Check out the nice pre-order screenshots below and we will keep you updated on Captain America: Super Soldier as the July 19th release date looms closer.