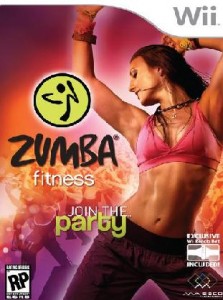 Last year, Zumba Fitness was released to mindblowing sales and to this day is still dominating the Nintendo Wii's software sales charts. Of course the smart thing to do is release a sequel, and that is exactly what Majesco are planning to do. Today the publisher announced that Zumba Fitness 2 will launch on the Nintendo Wii this holiday season and "another-to-be announced platform" in early 2012.
"We've seen an overwhelming demand for the next iteration of the franchise and I can promise you that Zumba Fitness 2's new and improved features will challenge Zumba enthusiasts and entice new followers to join the party," said Jesse Sutton, Chief Executive Officer, Majesco.  "The Zumba Fitness franchise of video games connects the exhilarating Zumba dance workouts loved by millions with uniquely interactive console platforms that are accessible and fun for consumers of all ages."
Along with the release, a nice list of features was given of just what this new version will include:
Shake it in Style – From fan favorites like Salsa and Reggaeton to all new styles like Bellydance, Axe, Latin Pop and Pasodoble, players can choose from more than 20 dance styles.
Customize Your Experience – Select from more than 30 tracks in Single Song mode, take a class designed by Beto, Gina Grant or Tanya Beardsley, or craft your own playlist in Zumba Class mode. Invite your friends to join the fun in Zumba Party mode that supports up to 4 players. You can even take it slow in Learn the Steps tutorial mode before you dive into the choreography.
Location, Location, Location – Dance it up in five new, dynamic environments from a Miami Yacht to a Los Angeles nightclub.
Superstar Instructors – Dance and interact with top Zumba instructors Beto, Tanya Beardsley and Gina Grant. You can even customize each instructor's outfit with the hottest Zumbawear™ styles.
Zumba Fitness certainly earned itself a sequel and I am sure with all the new tracks and modes, Zumba Fitness 2 will be just as successful. I am now a bit curious due to the "other platform" that this will be released on. If Zumba Fitness 2 is in fact coming to the Wii's Successor, that would confirm motion control for the console, but then again this could be a completely different console that might not have even been hinted at yet. Surely more will be answered at E3, but for now Zumba fans can literally bellydance in joy as a sequel is now on the way.