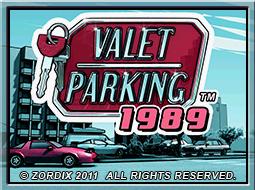 For the past few months, we have been bringing you all coverage on Zordix's Valet Parking 1989, a game in which players must use their best time management skills in a hip 1980's setting to please both their evil boss and celebrity clients as they rush to park cars in a strategic fashion. Today the wait is over and Valet Parking 1989 is now available on the DSiWare download service.
Also released was a comdedic list of features for the game, giving potential parkers a look at what to expect from this snazzy new title:
Park and return cars to patience impaired guests.
One evil bossman!
Intense and stressful gameplay
Set in a neon lit California 1989, or something like it.
Two modes of play, endless play and a teen movie story mode.
Shoulder pads galore
30 characters that you may or may not (n)ever have heard of.
Mullets, mullets everywhere!
15 songs (quite but not like, anything you heard before)
Two words, handcuffs and ice-cream
15 cars all with Hollywood style steering and Hollywood style screeching tires.
Never ending play, with or without a story.
A nice ambulance, you will need it!
Mullets, ice cream, handcuffs, and 80's flare sounds like a great time to me. Valet Parking 1989 has had my interest for a long while as it just seems to stand out for the obvious reasons along with the addictive gameplay formula that has been advertised by Zordix. If you own a DSi though and have been looking for something to grab with those points, the only "Totally Rad" choice is now available in North America with Valet Parking 1989. Stay tuned as well as a review is coming soon.