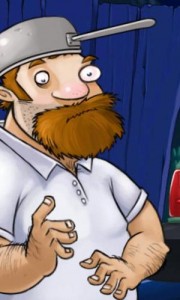 "You know that song, "There's a zombie on your lawn"? Well there are zombies on your lawn. Stop singing! You need powerful plants to stop 'em. Play now to save your brains."
Luckily, Popcap are giving you the chance to save your brains at a third of the usual price! Be quick though, the offer only lasts another couple hours, after which, you have to pay full price to spring your brains' ransom.
Crazy Dave, the zombie-fighting-plant specialist, has chosen his favourite Popcap games and is offering them for at least 50% off for crazy Dave's Deal Days. The first was the classic Plants vs. Zombies, ending at midnight PDT (Google it – I did). After that, another Popcap game will be on sale for 48 hours, and then another, and so on.
Get over to Popcap's site quick, and see what's on sale. Or follow them on Facebook or Twitter to see what deals are coming up.