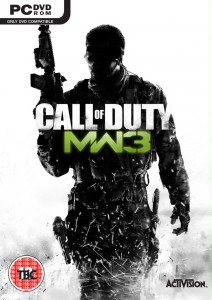 You know what game I am shocked about that is coming out this year?  MW3. Yup, MW3, or Modern Warfare 3, or rather Call of Duty Modern Warfare 3.
No seriously, we haven't heard anything about the next one, and then BOOM!:
LEAK<TRAILER< STATEMENT< ANNOUNCEMENT<AD ON HULU!
OMG I WANT IT!
Despite all that, its quite hard to deny that it will be amazing to find out what happens to Soap, the other dude and the Russian dude.  Plus, the Call of Duty series has set a benchmark in the shooter genre, and I will most likely be playing it come November 8, 2011.  Whats that?  Yup, 11/8/11.  BANG!
And now, statement time:
"Call of Duty: Modern Warfare 3 is by far the most epic Call of Duty experience yet.   The teams at Infinity Ward and Sledgehammer Games have worked tirelessly to create for the Call of Duty player a scale that is unimaginable with a level of polish and creativity that will push the genre forward," said Eric Hirshberg, CEO of Activision Publishing, Inc.  "The passion and energy of our developers is reflected in everything about the title.  From the innovative gameplay, to the cinematic intensity, to the most advanced multiplayer ever, Modern Warfare 3 will raise the bar for this already incredible franchise."