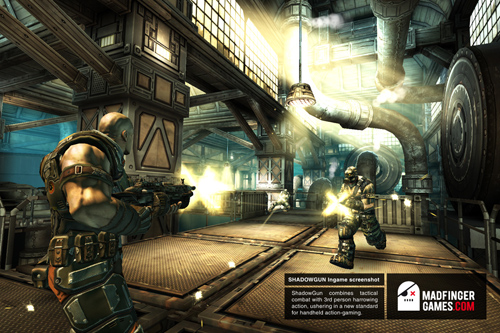 Madfinger Games, creators of Samurai II: Vengeance (available for iOS, Android & Mac), have decided to take things up a notch and announce a brand new property, SHADOWGUN. Designed for mobile and tablet platforms, SHADOWGUN looks far nicer than it has any right to. I mean seriously… that looks like a console game. It's melting my face with it's pretty pictures.
By focusing on mobile platforms and tablets, Madfinger has created an extremely advanced handheld game for the market, optimized for performance and delivering a fidelity and quality typically reserved for a console experience.
Authored with the Unity development platform, SHADOWGUN combines tactical combat with third person harrowing action, ushering in a new visual standard for handheld gaming. SHADOWGUN puts players into the role of John Slade, a professional bounty hunter in the year 2350. Slade's mission: hunt down Dr. Edgar Simon, renowned geneticist and former employee of the trans-galactic corporation Toltech Enterprises. Players must lead "shadowgun" John Slade as he infiltrates Dr. Simon's mountain fortress and fights his personal army of mutants, cyborgs, and genetically-enhanced humanoids. Using state-of-the-art weaponry, ships, and the assistance of S.A.R.A.—Slade's personal android assistant. The story is written by award winning author Micah Nathan who has joined the MadFinger team as executive creative consultant for SHADOWGUN.
With SHADOWGUN, Madfinger is hoping to expand the perception of what a mobile game can be. It'll be available for iOS (iPhone, iPad) and will support Android mobile devices powered by the NVIDIA Tegra super chip, and will be available on the Tegra Zone app and Android Market.
Look for SHADOWGUN, available in an app store near you in 2011.