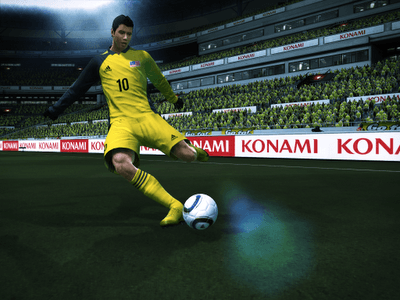 For some, the world may be ending in 2012, for soccer nuts PES 2012 is coming out instead. Konami has announced the first details of PES 2012, including a new trailer. The previous entry to the series was said to be the best in years, the new game is looking to improve upon features which pleased fans.
The game development news is that the AI has undergone a major overhaul to bring the title more in line with the experience of being on an actual team. Teammates now make runs and offer more support in one-on-one situations. Players can also draw defenders and rely on the AI to help better move the ball around. An emphasis on teamwork is going to be key to the players success, well that's the idea anyway.
The trailer shows the series' Creative Producer, Shingo 'Seabass' Takatsuka detailing the first batch of key innovations in the new game, and extends upon last year's game's freedom of play motif. Three images of the AI elements are also available, alongside pictures of the dev team. Further announcements on PES 2012 are scheduled in the coming weeks. PES 2012 is due to launch this fall on all platforms.
[pro-player width='530′ height='253′ type='video']http://www.youtube.com/watch?v=Tk5gGjikJto&feature=player_embedded[/pro-player]