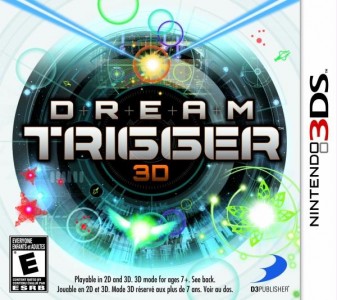 After a good month since we seen a title released on the Nintendo 3DS, Dream Trigger 3D is now available and looking to bring the arcade shooter genre into the 3DS' steadily growing library. In Dream Trigger 3D, the player must explore the very visual world with their eyes and sonar, taking down enemies that explode in a multicolored 3D pattern to create an in-depth experience.
With the release also comes a statement from D3 Publisher to give a tad more insight into the game:
"Dream Trigger 3D will test players' arcade shooting skills and have them at the edge of their seats as they navigate through dozens of nightmare-induced stages in 3D," said Peter Andrew, vice president of product development, D3P. "Dream Trigger 3D is the perfect visual showcase for the 3D graphical abilities of the Nintendo 3DS system and provides an experience never before seen on a handheld system."
I have been watching Dream Trigger 3D very closely as it looks to be not only perfect for the system but it also reeks of just about everything a fan of classic arcade shooters would want. Check back soon as our very own review for the title should be coming up and we can finally see just what this title has to offer.