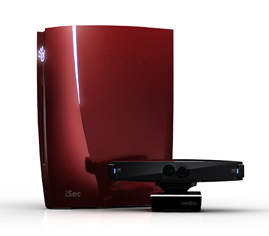 "Yes, it doubles as a karaoke machine"
China, who just happens to make everything has finally decided to step into the market of game consoles, probably because it's closed off to every other console. You don't see gamers over there with PS3's, Xbox's or Wii's, but ironically some of the parts are probably made in China, so it only makes sense for the country to step in. Originally dubbed the 'ebox', the renamed Isec was announced a year ago and has been in development for around two years, but the 3D camera technology behind the beast was recently announced including a few images.
Similar to Xbox Kinect, the DepthSense™, developed in partnership with Namuga using SoftKinetic's patented 3D sensor technology will enable gesture-based entertainment on EEDOO's iSec platform. The console is aimed at a market of 120 million homes, in the hope of changing the way Chinese families interact with digital content. Said to come with 30 built-in games, the console sounds like a glorified Xbox kinect more than anything, whether or not non-casual games are being developed is another question, all signs are pointing towards 'family friendly' content only. However games are being developed by in North America and Europe, what specific studios are unknown, but they'll be ready for launch.
Currently 40 of the companies software engineers are working on the console. They believe that by including games in the system they can cut down on the rampant piracy that already controls much of the PC market there, how future releases after the launch are handled is still in question. The interesting thing is that on the Chinese market foreign company's are forbidden to selling video game consoles and titles for them, so how and why western developers are working on games makes for an interesting future.
The console is set to release in China during the second half of 2011 (pricing wasn't released) and the console's maker, Eedoo Technology, says it will consider selling the unit overseas after it sells one million units in China. Given the lack of consoles in China and the mass market, I don't see that taking too long.