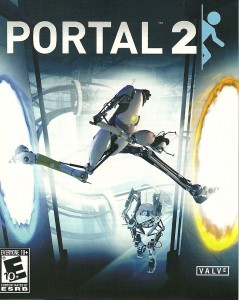 If Portal 2 is not present in your game library, then now is the perfect time to buy it as it is  $34.99 on Amazon.  But if instead of puzzle solving,  crime solving is more your style, then LA Noire can also be had for the pre-order price of $44.99 on Buy.com.  Another deal on Amazon is to buy two games for the Kinect for $60.
A new 160GB  PS3 system with a $50 promotional credit can be had at Amazon as well.  Xbox 360 consoles are also on sale on Amazon.com.
The final deal is at Toys 'R' Us.  Buy a 160GB PS3 through May 7th and get a $50 gift card and a $20 PSN card for free.
Buy Portal 2 here.
LA Noire can be had here.
Get two Kinect games for $60 here.
Get 3D Dot Game Heroes for $15 here.
Cheap PS3 on Amazon here.
Cheap Xbox 360 on Amazon here.
Other cheap games on Amazon can be had here. The Force Unleashed 2 Collectors Edition and Majin and the Forsaken Kingdom are the highlights in that Amazon deal page.