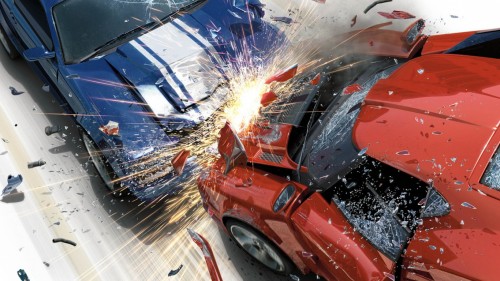 We've seen games rated by different ratings boards before they have been actually announced but usually the announcement for the title will follow within a week at most. Not so with EA and Burnout Crash because it has been a month since the title was rated by the Australian ratings board. Now a month later the title has been given a full ESRB rating; including a description which you can read below:
This is an action game in which players earn points for creating traffic pileups. From a top-down perspective, players initiate crashes by driving 'cartoony' vehicles (e.g., cars, trucks, vans, buses) into busy intersections; multiple crashes trigger score multipliers and rack up large 'bills' of property damage.

Each level is accompanied by crashing sounds, small explosions, and vocal encouragement (e.g., 'Cool,' 'Maximum Carnage!'). In some levels, players are instructed to crash into police cars (e.g., 'Crash them before they bust you!'); in other sequences, oversized airplanes, tornados, lobster monsters, and UFOs slide across the screen, destroying any vehicles in their path.
As mentioned before you can see that the game will be coming out for the Xbox 360 and PlayStation 3, but something is a bit interesting about this description. Of course besides the lobster monsters that is. The game describes itself as a top-down playing title which is something we have yet to see from the Burnout series, this description sounds like something a XBLA game or PSN game would be, instead of a retail title. Perhaps that is why there hasn't been an announcement yet.