Red Faction: Armageddon doesn't release until June, but THQ have now shed light on what those who order the game early will receive. Those who decide to head to EBGames will be able to get an instant upgrade to the collector's edition which is packed with all sorts of goodies from extra armor and guns to even the full version of the downloadable XBLA/PSN title, Red Faction: Battlegrounds.
Here is the full list on contents that have been revealed for this collector's edition: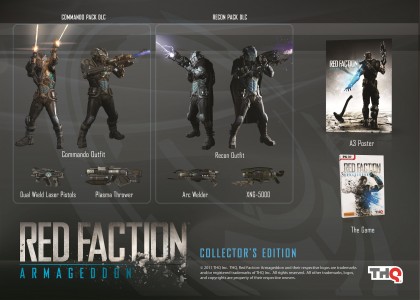 Red Faction: Battlegrounds
A free downloadable copy of Red Faction: Battlegrounds arcade game on either Xbox LIVE® Arcade for the Xbox 360® video game and entertainment system from Microsoft, or PlayStation®Network for the PlayStation®3 computer entertainment system, a $15 value.
Recon Pack
Players will also receive the Recon Pack that includes the clandestine Recon uniform, constructed specifically for Red Faction snipers and spies. Unleash two new weapons on your foes, including the Arc Welder, which immobilizes and electrocutes clusters of enemies, and the XNG-5000, which launches devastating Nanite-filled projectiles that seek out targets and dissolve them.
Commando Pack
This pack includes the armored Commando uniform and adds two new weapons to their arsenal. Players will spray an unforgiving stream of destruction with the Plasma Thrower, or slice and dice the infestation with dual Laser Pistols.
A3 Poster
Lastly, players will receive a large A3-size Red Faction: Armageddon poster – perfect for the lone survivalist looking to display their allegiance to the colony of Mars.
For those who typically shop at JB Hi-Fi, don't feel left out as THQ are offering a different bonus of a 24-page illustrated comic book which follows Darius Mason as he chases down a gang of murderous bandits in a tale that takes place just before the events of Red Faction: Armageddon.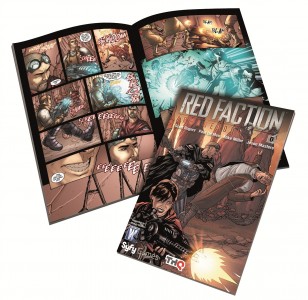 After how much fun Red Faction: Guerrilla was, I am ready for this sequel and it is nice to see these incentives now being announced as it is always nice to get some extra swag with any gaming purchase. Red Faction: Armageddon officially hits stores June 2nd for the Xbox 360, PS3, and Windows PC. Keep checking back as we will keep you updated with more news as this release draws closer.