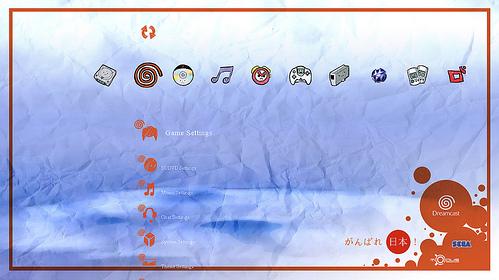 It is always great to see anything release reflecting on the greatness that was the Dreamcast, and now an awesome theme for the PS3 has now been given out by Sega due to the amazing response for the underway charity auctions on eBay for the support of Japan. Sega have now raised over $20,000 for relief efforts with these auctions and are rewarding the theme you see above to any fan who wants some nostalgic bliss to spice up their Playstation's menus via a new post on their official blog.
There are two themes available for download, European Dreamcast Blue and North America Dreamcast Orange which were designed by Maher and Souha Al-Samkari of modus Productions and each can be easily applied by following these instructions with a flash drive (copied from the blogpost):
1. Change the files you download to add a .p3t extension. To do this, click the filename to highlight the name of the file, then add the .p3t to the end. The themes WILL NOT WORK without the p3t Extension! More info on changing file extensions within windows can be found here.
2. Create a directory within a flash drive with the following in UPPERCASE
PS3\THEME\(themefile)
3. Pop this into your PlayStation3, copy to the system, and there you have it – a really cool new theme!
While the new theme is awesome, I should note that these auctions are still continuing as I write this and there is still time right now to get in on grabbing some rare Sega swag while helping out Japan in the process. You can visit Sega's official ebay listings by clicking HERE.