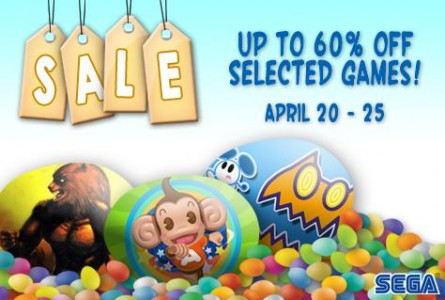 For those who have been wanting to spice up that mobile device with some Sega greatness, you are now in luck as Sega are hosting an Easter sale on iTunes which will slash the prices of many of the developer's most popular titles up to 60% off the standard price. Whether you want to "Wise fwum your gwave" with Altered Beast or take to the tracks with Super Monkey Ball, this sale will surely have something to add to any iPhone, iPod touch or iPad without barely any HP lost on the wallet.
Sale Price titles inlude:
ChuChu Rocket!™ HD for iPad: $2.99 / £1.79 /€2.39 (was $4.99/£2.99 /€3.99)
Super Monkey Ball™ 1: $0.99 / £0.59 /€0.79 (was $2.99/£1.79 /€2.39)
Super Monkey Ball 2: $0.99 / £0.59 /€0.79 (was $2.99/£1.79 /€2.39)
Altered Beast™: $0.99 / £0.59 /€0.79 (was $2.99/£1.79 /€2.39)
This sale will last until April 25th and is now live, so hurry and get in on these discounts while there is still time. To be taken directly to Sega's titles in the iTunes library, simply follow this link or search for "Sega" in the iTunes store..