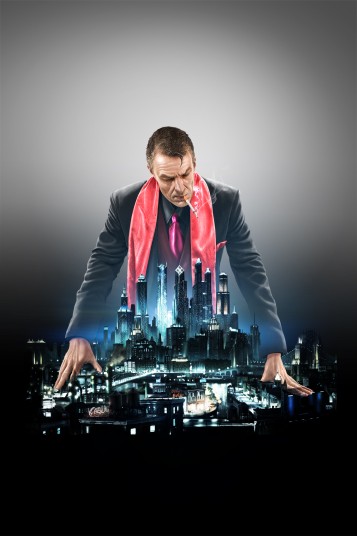 What I've loved about the previous instalments in the Saints Row series is that they DIDN'T attempt to create a scruffy, brown coloured, physics bogged, REALITY crime simulator along the lines of the Grand Theft Auto games. It's for this reason that I, personally, have always preferred playing SR as opposed to GTA. THQ and Volition were able to create a series of crime style sandbox games with an almost active acknowledgement that the situations within the game were so extreme, so over-the-top or so ridiculous that they are actually a ton of fun to play. I mean, what self-respecting gamer doesn't dream of firing a rocket launcher at hordes of enemy gangsters and evil corporate executives hundreds of feet up the side of a tower from a helicopter being piloted by a total stoner? For those that don't know, that's how Saints Row 2 ended.
The latest media releases, and screenshots for the latest instalment, Saints Row: the Third, do not disappoint. From the looks of the screens posted up on the official SR3 website, players are in for an even more over-the-top, adrenaline pumping game experience. The very first gameplay screenshot I saw was this: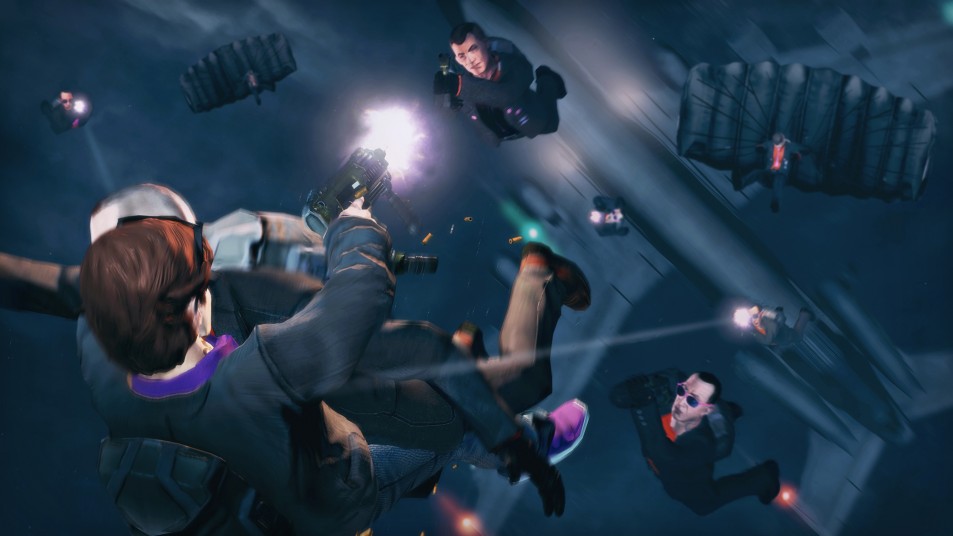 The player character (presumably the same protagonist from SR's1 and 2) is engaged in a mid-air gunfight. With dozens of enemies. Hundreds of feet in the air. While skydiving. BACKWARDS. Oh yes, and did I forget to mention the GIANT BALLS OF FIRE that scream past the player as they're falling, incinerating everything in their path? No? My bad.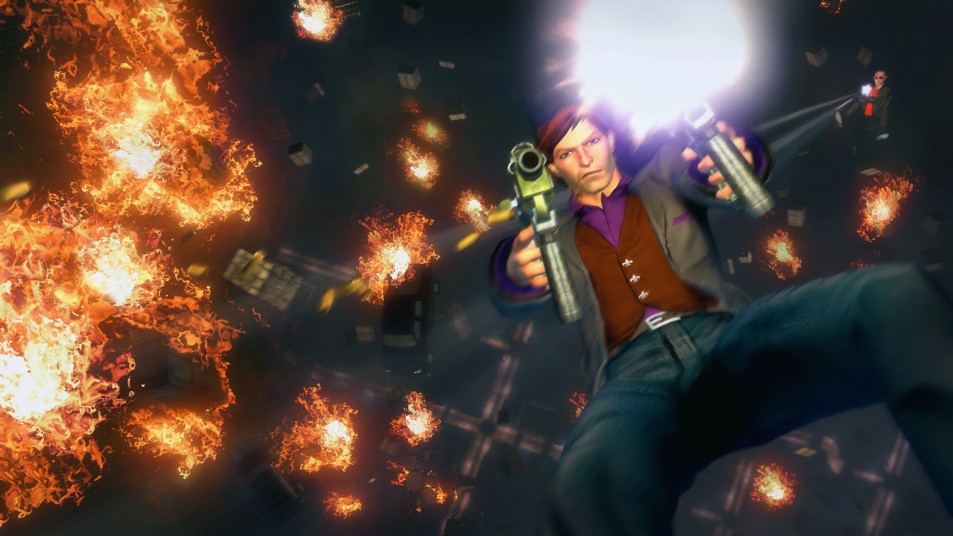 And let's also not forget some of the vehicle sections. The basic bread and butter of a modern crime sandbox game. From the screens and media revealed so far there appears to be a large variety of cars, just ready to be *ahem* liberated. Additionally, innovations from Saints Row 2 appear to be making a return (such as helicopters and motorcycles). Oh yes, and this little number might also be worth mentioning: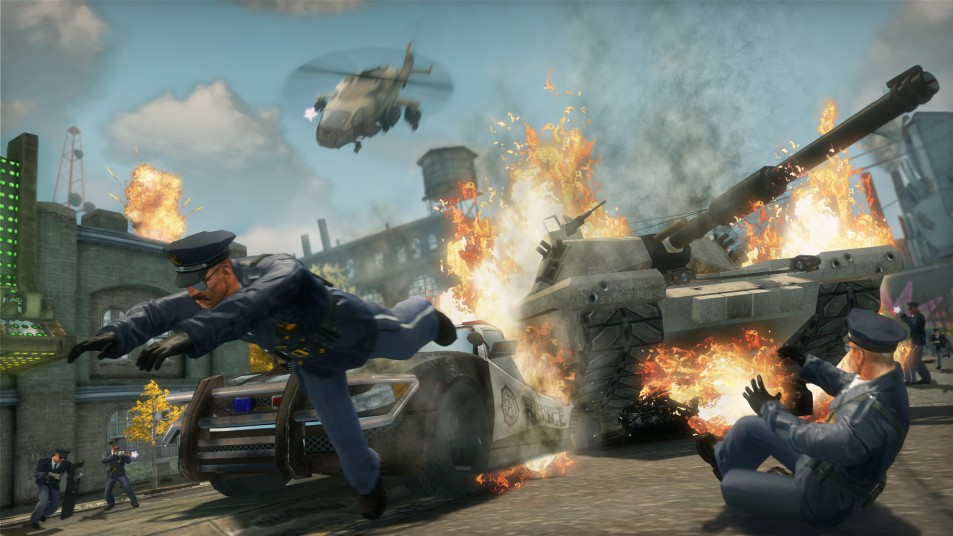 Nothing says "subtle" like a TANK, am I right? For those of you who want to get a closer and juicer look at some of the new media that's been released check out: HERE
New Screens The first screenshots of Saints Row: The Third, featuring a skydiving shootout, a massive tank battle on the streets of Steelport and a showdown with a heavily-armed Mexican wrestling gang.
New Environment Concept Art Your first look at Steelport, a city of sin controlled by the Syndicate, a global criminal organisation whose latest enterprise is the eradication of the Third Street Saints.
New Character Art Your first look at the major players of Steelport:
 • Phillipe Loren: the cold, calculating leader of the Syndicate
 • Zimos: an old-school pimp who hates Morningstar and what they've done to pimping, mostly because they ran him out of business and pimpin' ain't easy.
• Killbane: leader of the Luchidores Mexican Wrestling gang that has cornered the gambling trade in Steelport.
• Angel de la Muerte: Killbane's former tag-team partner. The relationship did not end well.
• Matt Miller: Leader of the Deckers and specialist in high-tech cybercrime
Unedited from THQ media release statement:
 "Developed by Volition, Saints Row: The Third is scheduled for release on the Xbox 360® video game and entertainment system from Microsoft, PlayStation®3 computer entertainment system, and Windows PC later this year.
Years after taking Stilwater for their own, the Third Street Saints have evolved from street gang to household brand name, with Saints sneakers and Saints energy drinks available at a store near you. The Saints are kings of Stilwater, but their celebrity status has not gone unnoticed. The Syndicate, a legendary criminal fraternity with pawns in play all over the globe, has turned its eye on the Saints and demands tribute. Refusing to kneel to the Syndicate, you take the fight to Steelport, a once-proud metropolis reduced to a struggling city of sin under Syndicate control. Take a tank skydiving, call in a satellite-targeted airstrike on a Mexican wrestling gang and defend yourself against a highly-trained military force in the most outlandish gameplay scenarios ever seen, igniting a city-wide war that will set Steelport on fire."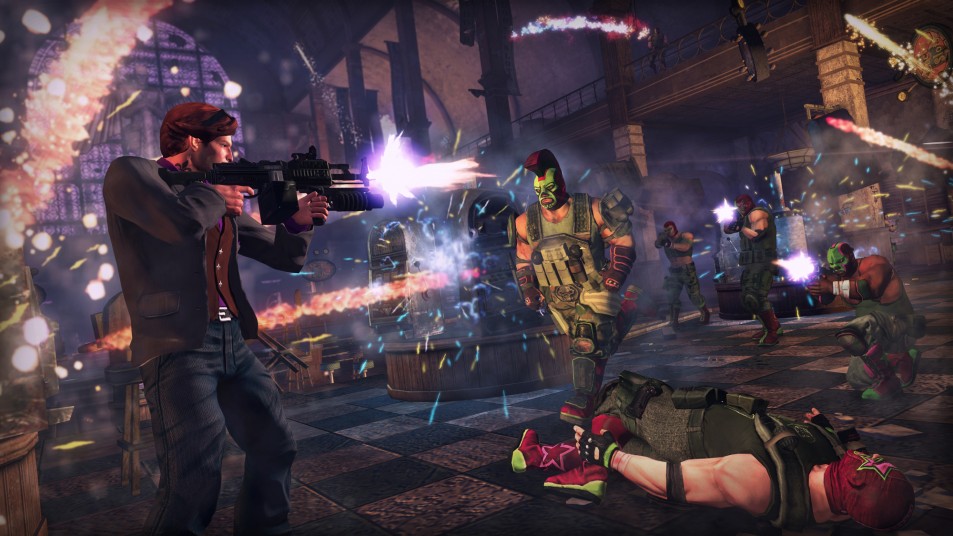 If you read my joint Phantom: Requiem review, we'd know that taking on a giant GLOBAL crime syndicate is not the best of ideas… From this alone we can conclude that this particular instalment of the Saints Row series will feature a pretty heavy story element. Not that I'd be complaining mind you. I did thoroughly  enjoy the stories of the previous two games. Especially some of the nastier REVENGE missions. I think we can expect this title to be a big seller, not just for the sake of gameplay, but a long, in-depth and enjoyable story keeps players playing. Let me say definatively: Look out for it. Oh, and thsoe bullets flying over your head.
So uh… when can I start pre-ordering? 🙂