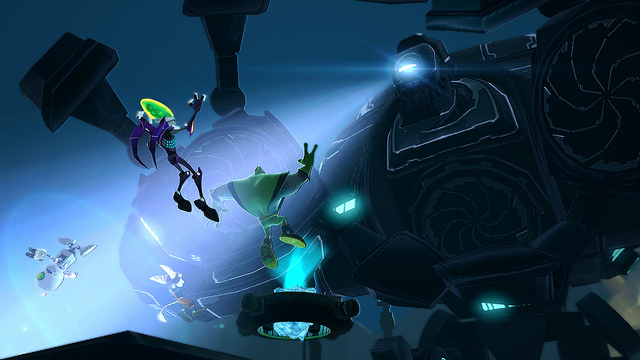 Insomniac Games have released a new demo from their upcoming title Ratchet and Clank: All 4 One, to a select group of US and EU journalists. While they also showed off some of the new arsenal available to the various characters, focus was given to the huge encompassing environments and an emphasis on co-op play. James Stevenson, the Senior Community Manager for Insomniac games explains that although players must help each other out it will be players individual scores that will allow them first choice of the plethora of new weapons available.
This is illustrated in a preview of a new level within the game set deep within the Terawatt Forest on Planet Magnus. In this environment all the plants and animals have been mutated by a strange alien meteor, and to make matters worse it's also home to a mad scientist named Dr Croid who holds the key to the Creature Collector, built by Dr Nefarious and responsible for the current situation.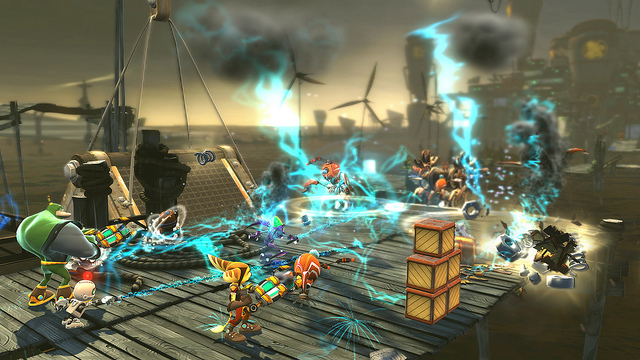 Stevenson goes on to explain that every weapon now has a co-op mode, so put simply the more characters that are using that weapon the more powerful its effects on enemies will be. Players are rewarded with extra bolts for co-op and specialised kills. Another exciting feature is special gadgets that are upgradeable and unique to each particular character. Imagine being able to create a clone of your character to trick the enemy while other players flank and bombard it, then also have it upgrade into a formidable turret gun.  I don't know about you but that sounds like a pretty cool feature and incentive to collect as many bonus bolts as possible.
Ratchet and Clank All 4 is due for a 2011 release and will be available in 3D for a truly immersive experience. Players will enjoy up to 4 player mayhem with a drop-in drop out system allowing players to leave and connect whenever they choose to.
Check out more over at Insomniac Games Facebook Page.