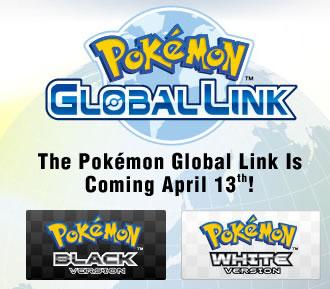 After a small delay, Nintendo are finally ready to launch the heavily anticipated Global Link for Pokémon Black & White. Starting April 13th, players will be able to use their Game Sync option on the C-Gear to access the Global Link via the internet where they can view some customizable, web only content, exclusive to the site. There are a ton of features that the Global Link holds and anyone with a broadband internet connection as well as Pokemon Trainer Club account (which can be obtained at www.pokemon.com) can freely log on and begin this brand new tool for either version of the game.
For those of you who have not been following just what the Global Link actually has to offer, here is a quick rundown on what to expect.
Dream World
The Pokémon Dream World will allow players to interact with their Pokémon as well as other trainers in a fully customizable world that will boast several mini-games as well as exclusive content and activities. Once a player "tucks in" in a Poké of their choice, they will be able to access the Dream World which boasts a watercolor like setting. The possibly greatest feature of the Dream World is that many non-Unova Pokémon make appearances through mini-games, and after befriending these said monsters, trainers can then transfer them to their own games.
Players also have a home that can be customized to their liking with a garden that will let you grow berries that you can use in your own game. Any berries or other items found are kept in a treasure chest to be later transfered to either Black or White. You can also visit other trainer's homes and assist them in berry growth, share items, or simply just check in on their design choices.
Battle Union
Battle Union is sure to be the most visited of the Global Link's locales, as this are is where the true competition will lie. After gaining access to to Random Matchup Rating Mode in his or her copy of Pokémon Black Version or Pokémon White Version, players can view their stats and have full access to check out the world leaderboards. Think of it like Pokémon Stadium, but you are now against the world rather than the second player on the Nintendo 64.
The Global Link will also be home to hosting various events such as item giveaways and Pokémon distribution. Right now, any user with a Trainer Club account to meet an Eevee evolution in the Play to Befriend a Pokémon game in Pokémon Fun Zone, which will soon be fully able to transfer to either version of the two newest Pokémon games.
This Global Link feature is honestly the biggest thing to hit the series since Pokémon Stadium was introduced years ago and this feature should alone add a lot of life for players who are already finished with Black or White's main story. I am sure over time many more exclusive events will be announced, so stay tuned and we will let you know as each one drops on the Global Link.