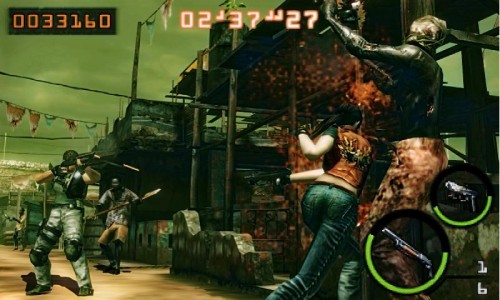 During Capcom's Captivate Event, a lot more information was revealed for the upcoming 3DS title, Resident Evil: The Mercenaries 3D. Now of course the game is set to play as the standard Mercenaries we have all seen in the past, where players must try to defeat as many enemies as possible in a set number of time in either single player or online multiplayer, but what makes this title a bit different is the newly added skill slot feature. Players will be able to use up to three different skills to add improvements to weapons performance, reload speed or melee abilities and customize characters to best suit their style of play.
The 3D of course will transform the standard yet familiar stages into the next dimension and the 3DS' touch screen is also going to be fully utilized as players can simply tap the weapon of their choice to change on the fly which should bode well for the hectic situations.
With all of this new information also comes a brand new trailer which you can check out below. The clip is a bit longer than what we have seen before and takes players through some of the enemies, modes, and playable characters they can expect to see. I for one am just ready to get to see Claire in any Resident Evil game again as she has now been confirmed but the whole roster of characters are really tying together well and along with the demo for RE: Revelations and all the content included, this game alone is reason enough for any Resident Evil Fan to bite the bullet and invest in a 3DS. Check out the brand new screens and trailer below and we will continue to bring you more updates as they come up until The Mercenaries' summer release.