Rockstar have announced yet another exciting trailer for their upcoming game, L.A. Noire. The trailer is the next installment in a series of videos demonstrating the title's gameplay functions, and is due to be released on Thursday 21st April at noon Eastern time.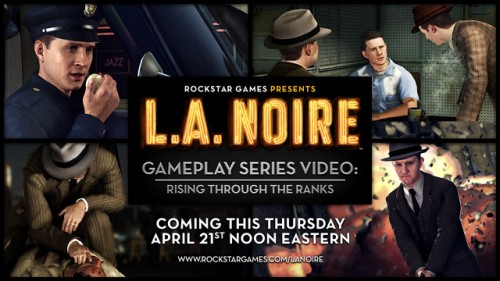 This gameplay trailer is called "Rising through the Ranks", and examines how players will go through cases across five different department desks of the LAPD including the traffic and homicide desks. In L.A. Noire, players will have to solve cases from various desks to rise through the ranks as Cole Phelps, and uncover the deeper secret lurking within the L.A. streets.
Previously released gameplay trailers include "Orientation", and "Investigation and Interrogation". To view these ones, visit the L.A. Noire official website here, and  stay tuned for the new trailer, "Rising through the Ranks".