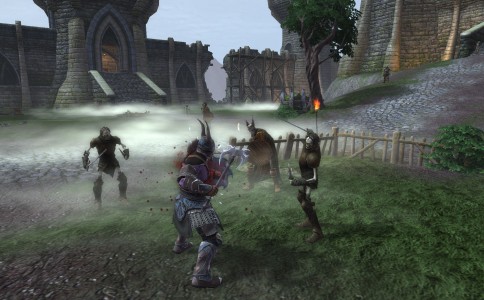 RIFT players are being given codes to pass on to friends in the hope of introducing more players to the MMO. Newcomers who recieve this code can then play the game for free this weekend during the 'Allies of the Ascended' special event.
They're called 'Ally Codes' and will only grant access from April 1 through April 4. After this period, new players will need to purchase it along with a monthly subscription fee in order to carry on playing.
To use an Ally Code (if you have a friend who can give you one) just follow these instructions:
Log in to your Trion Worlds account, or create a new account if you do not already have one.
If you are not automatically redirected, click the "Apply Code" menu item.
Enter the Ally Code you received from your Ascended ally.
Download the RIFT patcher by clicking the "Download Client" button in the "Manage Account" section of your Trion Worlds account, or click here.
Install the RIFT patcher, update the game, and you're ready to play!
Event schedule: 10am PDT April 1, 2011 through 10am PDT April 4, 2011.
The codes will grant new players a digital download of RIFT, enabling access to certain features of this game during the Allies of the Ascended special event. You will need to create a Trion Worlds account if you don't already have one to participate in this event.