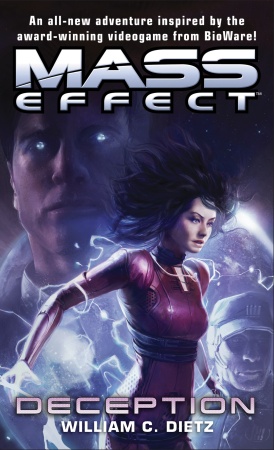 When a video game series becomes popular it eventually has a few books written about it to help expand the world that the games try to create. There have been Resident Evil novels, Halo novels, World of Warcraft books and now there will be another entry into the Mass Effect novel collection. The fourth book in the series will be called Mass Effect: Deception. This one however will not have the same author as the first three books but instead will be written by William C. Deitz.
The book is currently slated for a release some time this Fall and with the cover already revealed we see the Illusive Man's face in the background. This could mean a lot of involvement with the Cerberus group and the Illusive Man himself.
William Dietz has written a few books about video game novels already, including an entry into the aforementioned Halo book series. Despite the change in author the book will continue to follow Gillian Grayson. Here is a small excerpt about the plot:
Gillian was once the subject of horrifying scientific experiments, but now, after her rescue, she is beginning to master her amazing powers. When she falls under the sway of a radical group who believe their powers make them superior to ordinary humans, she finds herself faced with a choice between her destiny…and her humanity.