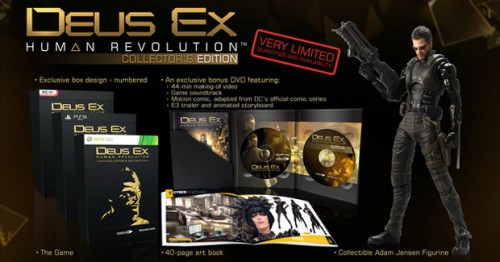 Square Enix had previously announced that people will be able to buy a special edition of Deux Ex that they were calling the Augmented Edition. But now they have announced the existence of a new edition of Deus Ex though this one has the standard name of being a Collector's Edition. This Collector's Edition will only be available to select European countries, Australia and New Zealand however so anyone in the US is out of luck.
The Collector's Edition will contain much of what was already announced to be releasing with the Augmented Edition you will be receiving a DVD with 44 minutes of making of footage, a stop motion comic and an animated storyboard. Alongside that is a 40 page art book and all of the DLC that you could receive from pre-ordering the title anywhere. This includes the Explosive Mission Pack, Automatic Unlocking Device, M-28 Utility Remote-Detonated Explosive Device (UR-DED), Linebacker G-87 multiple shot grenade launcher, Huntsman Silverback Double-Barrel Shotgun and SERSR Longsword Whisperhead silenced sniper rifle. Also you will receive 10,000 in-game credits to buy or upgrade your weapons.
Now the interesting addition to this edition is the Adam Jensen action figure which certainly would be a nice addition to anyone's shelf. The current listing for this Collector's Edition is at 100 Euros, placing it 30 Euros above the price tag of the Augmented Edition.