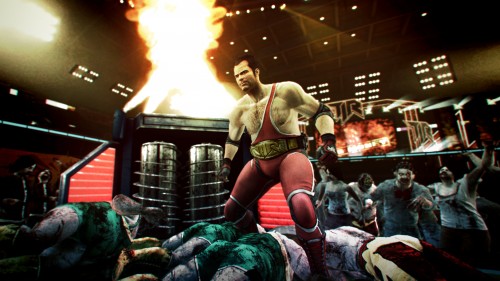 Capcom lifted the lid on one of their latest projects today; along with many others, Dead Rising 2: Off the Record was announced. It will be a disc-based follow-up to last year's creative undead action game and will arrive on PC, Xbox 360 and PS3 this autumn/fall. You will play as original Dead Rising photojournalist and hero Frank West in what Capcom described as "a reimagining of the Fortune City outbreak".
Capcom also had this to say: "The new, 'Off the Record' storyline means an all new Dead Rising 2 experience. Frank will face off against more twisted enemies, build more outrageous combo weapons, follow his own unique mission structure and explore brand new areas of Fortune City to get his biggest scoop yet.
"Frank's come back means the return of his trusty camera, with players able to earn Prestige Points (PP) for specific photo opportunities that are graded against criteria such as horror, drama, erotica and brutality.
"In addition to the new scenario and gameplay enhancements, Dead Rising 2: Off the Record offers a suite of technical updates including load time optimisations, improved network performance and a host of system upgrades to deliver a more satisfying Dead Rising experience."
You can check out the trailer released alongside the announcement below: