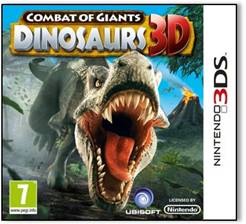 Ubisoft has recently released its latest trailer for it's 3DS launch title – Combat of Giants: Dinosaurs 3D.
Combat of Giants: Dinosaurs 3D is a game that takes RPG elements and adds them into the era of the giant reptiles. The trailer gives us a small glimpse of the exploration within the game as well as giving us some pre-rendered footage to build up a little hype within the audience.
Watch as a small band of dinosaurs take on a much larger opponent. Watch as they get thrown around by the larger dinosaur. Watch on as a player guides his or her own dinosaur through several scenes that demonstrate key gameplay elements, such as combat, breaking stuff for loot / exploration and lots of navigating.
Combat of Giants: Dinosaurs 3D has a robust list of features –
Features
Dive Into A 3D Jurassic World – Roam the Jurassic world in full 3D and feel the depth of the jungle, crush trees and rocks to get special rewards. Enjoy as well a strong 3D storytelling between 2 intense fights.

Spectacular Combat – Engage in fast-paced fights with direct control over your giant creature. Perform real-time actions such as blocking, dodging, hitting and execute your new super combination attack with a unique fighting style for each dinosaur.

Creating and Customization of Your Unique Dinosaur – Choose and customize your favorite Dinosaur among 18 breeds such as T-Rex, Stegosaurus, Velociraptor, Triceratops, Ankylosaurus, and Baryonyx. With over 35 colors and patterns, your dinosaur will be more unique than ever.
Be sure to check out the…
Video at Ubisoft
The games home page at Ubisoft.