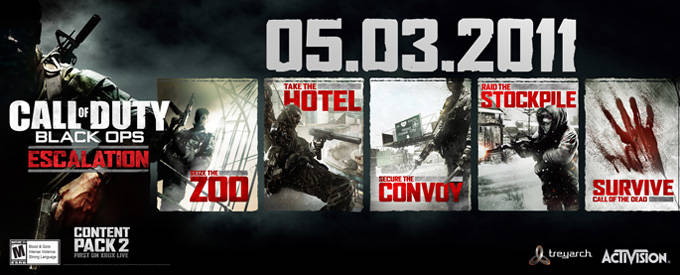 Call of Duty Black Ops publisher, Activision in conjunction with Treyarch Studios have announced an all star cast to feature in their second DLC pack, Escalation. Famed horror/zombie stars Robert Englund (Freddy Krueger), and Sarah Michelle Gellar (Buffy), will join Michael Rooker, best known for his work on the massively popular Walking Dead tv series, as well as Danny Trejo of Machete notoriety. Escalation will be made up of the Call of the Dead level plus 4 new multiplayer maps which will launch first on XBox Live on May 3rd.
The companies have stressed their dedication to producing a zombie experience unlike that ever seen before, with the storyline inspired by the legendary George. A. Romero who inbetween making such horror films as Night of the Living Dead, Dawn of the Dead and Land of the Dead, took some time out to also star in the game. Mark Lamia Head of Treyarch studio describes Call of the Dead as "unreal and…taking zombies to an insane new level", adding that this is a tribute to George A Romero and his efforts in revolutionising the zombie genre.
COD Black Ops is rated MA15+ and Escalation DLC will be available from May 3rd on the XBox Live network. Whether slaying vampires or zombies Sarah Michelle Gellar has a place on my consoles whenever she wants.