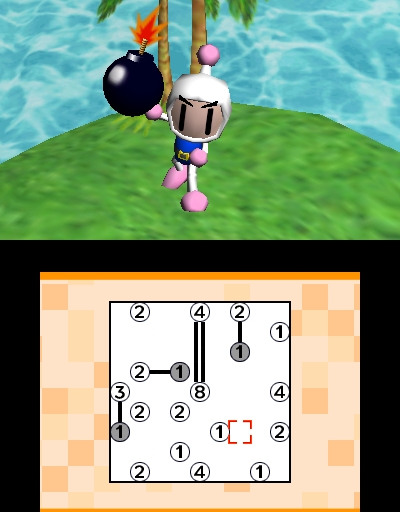 Hudson Entertainment may have been absorbed by Konami, but that apparently doesn't mean we have seen the end of the legacy they built or the end of Hudson Soft as a whole. The company recently announced the Sudoku: The Puzzle Game Collection which will be headed to the 3DS and developed by Hudson Soft. This of course means cameos from favorites such as Bomberman will be very present within the title.
Of course for those of you who simply love the addicting Sudoku game, there is plenty of content that will be packed into this collection. There will be puzzles devised by world-famous puzzle maker Nikoli in four different styles including the standard numerical Sudoku, those being Hashi (Bridges) , Shikaku (Boxes) and Akari (Museum). Also utilizing Nintendo's "Play Coins", players who take their 3DS with them will be able earn points which can be exchanged for more challenging puzzles. This is certainly an interesting way to unlock more content and will be a great way to motivate owners of the game to make sure they don't forget to bring their 3DS with them wherever they may go.
With over 600 different tests in tow and a varied difficulty level, I think I may have to give this one a try as yes, there are a ton of Sudoku themed titles out there, but Sudoku: The Puzzle Game Collection just stands out above what we have seen, not only for it's 3D effects, but for throwing in some Hudson love. This should also quiet the rumors that Konami isn't planning to use any of the famed company's franchises once and for all as well. You can check out the first nine screenshots below.