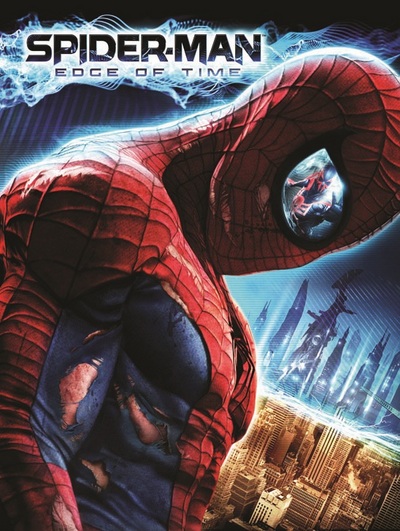 Activison and Marvel have teamed up once again to create a new Spider-Man game titled 'Spider-man: Edge of Time'. The game will be developed by the Activision-owned studio Beenox, who last brought us 'Spider-Man: Shattered Dimensions' last year. "The first Spider-Man entry by Beenox, Spider-Man: Shattered Dimensions, was touted as one of the wall-crawler's best Spider-Man games to date from both critics and fans," said Vicharin Vadakan, Director, Global Brand Management. "Beenox is once again taking a fresh and different approach to bring a fast-paced and high-octane adventure and unexpected story to life in Spider-Man: Edge of Time."
A follow up game of sorts, 'Edge of Time' will once again delve into the Marvel Comics Multiverse, putting players in the roles of both classic Amazing Spider-Man and Spider-Man 2099 to correct a timestream that has gone awry, in order to prevent a catastrophic future brought on by the early, untimely death of Peter Parker. The game's story is in good hands with acclaimed Marvel veteran Peter David (co-creator of the comic book series Spider-Man 2099) on board creating a rich narrative for the action to take place. Gameplay wise, players can expect an action-packed adventure with new "cause-and-effect" gameplay, where players will be able to see how their in-game actions will affect the timeline of the other Spider-Man.
Spider-Man: Edge of Time is set to release later this year in fall. If you're lucky enough to be attending WonderCon 2011 in San Francisco, California, you'll be able to get a sneak peek of the game at the Activision/Spider-Man panel on Saturday, April 2, at 4:30 pm in Room 103.
For more information on Spider-Man: Edge of Time vist HeroHQ page on Facebook